Content note(click for details)

Content note: harm to children

"Late bloomers have the prettiest blooms," Sadie's momma said, after she tapped her on the head with the comb. "So, stop squirmin'."
"It's too tight." Sadie winced, sucking in air to offset the pain. Her scalp burned like someone had set fire to it. She put her hands in her lap and tried to weather the storm, her hands rubbing each other to soothe the pain.
"Tenderheaded. That's all." Her momma pinched off a section of hair, and began another braid.
Sadie stifled a groan and squeezed her eyes tight. Once her momma finished the braid, she rubbed a finger full of grease along the parts, oiling her scalp and providing a balm to her irritated skin. The braids still hurt; the hair pulled taut and confined in the creative style.
With her hands sweating, Sadie gritted her teeth and stopped complaining. Not cause her momma's braiding had stopped hurting. It did, but she wanted to look nice for the Dogwood Arts Festival. It happened once a year in Knoxville and she loved the early spring weather. Fresh grass, the flowers' sweet smells and the pollen, giving everything a yellow hue.
Other places had festivals honoring dogwoods, cotton, and barbeque. Heck even bacon. Here in East Tennessee, beneath the Great Smoky Mountains' rolling hills and purple mountains, the dogwood reigned.
Knoxville laid at the foot of the Smokies, in the valley. Protected to the east by mountains and blessed by the Tennessee River on the west, the city of Knoxville bloomed after the 1982 World's Fair. Sadie only heard stories. The impact on the small county — the town, according to her momma, caused the town to morph into a metropolis.
"Momma?"
"Yeah baby?" Her momma popped her gum. The rush of spearmint tickled Sadie's nose. Her hands rested heavy against Sadie's head.
"Tell me about the dogwoods." Sadie opened her eyes and waited. She loved when her momma read or told her stories about their people. The truth and all its messy bits her teachers didn't tell her about in school. That's what her momma called it—messy bits.
Momma's stories went back as far as the Dogwood Arts Festival itself. Some of the stories Momma got from Grandmomma, Sadie's Nana. Knoxville didn't have a lot of folks who looked like her. Most of Sadie's schooling had been by middle class white women, some well-meaning, but confined by stereotypical beliefs and hatred, both festering inside and foaming outside in whitewashed facts. So, when her momma talked about history, their history, in her rich, southern drawl, Sadie would disappear into those words melting into the past. Those logs fueled her inner fire to burn through the present's challenges.
"Well, back in the days, a long time ago, the dogwood was strong, as strong as the oak tree. The people who kilt Jesus used the dogwood to make the crosses people was crucified on. The dogwood was a killin' tree. So when they kilt Jesus on the cross, God twisted the dogwood, punished it by making its limbs thin and skinny…"
"So no one could be crucified on them any more," Sadie finished, her heart hammering in glee.
"Right. But just so folk don't forget, God made the white petals of the dogwood look like a cross, four points, with blood bracketed on the tips where they put the nails in Jesus." Her momma breathed deep and sad as she started braiding again. "Dunno why you like that story so much. It's sad, Sadie."
"It isn't sad, Momma. It's beautiful." Sadie sat up straighter against the couch.
"You a strange child." Her momma tapped her shoulder. "You done."
Sadie stood. Her legs ached from sitting, but the searing of her scalp blotted that out. Still, she took the stairs two at a time to get changed. Soon, her cousin, Tina, would be by and together they'd make their way downtown to the festival.
As she changed clothes from her pajama bottoms and tee-shirt and into jeans and a long-sleeved, white University of Tennessee tee-shirt. The words "Go Big Orange" spelled out in vibrant U.T. orange. Sadie thought about the dogwoods. She loved the story, not because of God's punishment of the dogwood. The trees had been changed. Their strength had been used for evil, to hurt people, to inflict suffering. Unable to stop the people from using them for this purpose, the dogwood had been relieved of the burden. She didn't see it as a punishment, so much as the dogwood being freed.
No, the dogwoods did not belong to white Jesus or his believers. The dogwood belonged to black folks—southern black folks. Like the dogwood, they'd suffered, blooms of potential sliced off by hatred vile and black as the skin of those they despised. Such "nice folks" capable of such monstrous acts as decorating beautiful grand oak and magnolia trees with bodies as ornaments. Smiling families lined up to take pictures in front of those macabre Christmas trees. Those dark, empty husks, dusty and lifeless, had been her family, her people, her kin.
Sadie sat down on the edge of her bed. Not the dogwood. Its petals already bore the blood stain of death. Mostly, the thick oaks and redwoods found themselves defined by evil.
The faint knocks announced Tina's arrival.
Sadie slapped on her gold bangle bracelets and her big gold hoop earrings.
"You comin', Sadie?" Her momma shouted up the stairs to her. "Tina's down here waitin'."
Sadie checked her braids in the mirror. Her hoops glistened along with the glossy and thick braids. Her head ached a little, but the rising excitement flooded her with a glow that numbed the pain.
"Yeah. Ready." She scooped up her pocketbook and headed downstairs.
Once Sadie reached the bottom of the stairs, she found Tina and her momma in the living room. The front door stood ajar, but the screen door remained open. Outside, the lemon-yellow sun beamed in the early afternoon sky. Sadie rounded the short corner and walked into the living room—and a debate.
"That's so 80s. We done did that." Her momma stood with her arms akimbo on her wide hips, watching Tina. Her satin, multi-colored headwrap hid most of her hair, except her tight spiral curls around her face. She wore a loose blue dress with pockets and house shoes she wore outside.
Her cousin's box braids swung about her flared hips as she rotated in a circle, shaking her hip-hugging and strategically ripped jeans. Sadie's momma laughed, throwing back her head, mouth wide, and humor crinkling the corners of her momma's eyes.
Sadie shrugged. "Everything dies. But then it comes back."
The chuckles stopped. Tina turned to peer at Sadie, her forehead wrinkled in confusion.
"You such a weird child." Sadie's mom shook her head and with scrunched eyebrows turned back to straightening the living room. The smile left and shadows formed on her momma's face.
Remnants of the shed hair, combs, and decorative beads littered the couch and rug where Sadie had sat.
Sadie let the words glide off of her. Those labels, strange, and, weird, had become worn and faded to her ears. Blunted like a knife that had been used too much.
"It's a cycle, like spring. Renewal…"Sadie explained to the back of her momma's head.
Tina rolled her eyes. "Get your pocketbook." Her voice dipped so low only Sadie could hear. "Sassy Sadie, let's go."
"Bye Momma." Sadie waved goodbye. The screen door slammed with a whap.
Once they got to Tina's little Honda Civic, she gave Sadie the once over. "Your braids are poppin'! Dang. They tight!"
"Yeah. Momma just finished them." Sadie shoved her hands into her jean pockets. Eager to go, she fought to keep her hands busy while Tina fished her car keys out of her pocketbook. The silence filled her with dread. Energy buzzed across her skin like lightning, like Saturday morning on Volunteer Football games.
Her cousin, Tina, lived up the street in a house that lined the edge of the projects' apartment buildings. Older by four years, Tina had her driver's license and an interest in art. The Dogwood Arts Festival local art show hosted a high school arts competition. Once the works were judged, students won ribbons and prizes. Tina had a few pieces showing and she wanted to show them off to Sadie. That fact alone took sheer courage. Strength. Tina had blossomed from the poor, clay dirt into a creative flower.
"Ready?" Tina unlocked the car, climbed in, and started the ignition.
"Yeah!" Sadie said with relief. At last!
It seemed to take forever, but in no time, they'd made their way from Cherry Street to downtown Market Street. As Tina parked the car, Sadie rushed out of the passenger side before Tina could remove the key from the ignition. The air felt different. It spoke to her.
"Hold 'em horses, Sadie!" Tina called.
Sadie paused on the sidewalk. "Hurry up!"
Once she cleared the car, Tina tossed her braids. "I'm coming."
They melded with the crowds of people streaming toward Market Square, a sea of pale faces with occasional spots of color. The Dogwood Arts Festival's banners of white, mint green, and pink announced the celebration, but the trees showed off. Reaching high to the sky in all their splendor, they decorated Gay Street, the primary artery into Knoxville's heart—downtown.
Sadie took in the rows of glorious trees. The tension level swelled. People bumped and jostled as people took in the new blooms, the artists, and vendors selling all manner of items. Southern fried foods' strong aromas wafted through the air. Pink, green, and white balloons decorated vendor and artisans' tables and booths along Market Square. The free event swelled with individuals beneath the cornflower blue sky and the occasional white cottonball clouds. Postcard perfect.
Sadie's Nana used to say firm footing could turn to quicksand in a blink.
Whispers circulated, like snakes slithering between people, hissing in warning, when a sharp burning sensation exploded in Sadie's chest. Her breath caught and a flash of bright light made her wince. She watched, transfixed, as a scarlet dot on her shirt blossomed across her heart, growing as if time-elapsed had been fast forwarded.
Sadie's joy gushed out of with her blood. She couldn't feel anything except the soft, downy dogwood petals brushing her cheeks.
For a crowd of branches, they weren't shy about revealing themselves. Her face—hot and tight—as the whispers intensified couldn't move. The trees leaned down close to her, their branches cracking like dry spines, shifting to mutter their wisdom into her ears. Blood roared in her ears as adrenaline flooded her system. She gave a wheezing cough. As she removed her hand from her mouth. An awareness settled on her shoulders.
I've been shot.
Life grinded to a halt.
Dogwoods didn't chase ghosts away. They were ghosts. Of her ancestors, of all ancestors of the strong and betrayed.
This. Was. It!
The moment the dogwoods welcomed her into their fold. All of Sadie's muscles strained as she lifted up her arms. They cradled her. The ivory petals stained with rust, by blood. Hers? Alarmed, she struggled, but their thin, rough bark tightened.
They whispered, "No matter. No matter. Only blood. We know it."
With this they bobbed in the breeze, and continued to convey their knowledge, such as the wonders of weather that affected their delicate branches and blooms, their wonderful stories of steam and coal, of feasts and famines, and of freedom.
"You been strong for so long," one dogwood said. It sounded like Nana.
"It hurts." Sadie croaked, mouth thick and lazy.
"Come on, chile. Rest awhile. Here…" said another dogwood tree.
"But…" Sadie said, "my momma…"
"…is gonna be alright, after a while," still another tree explained.
Their branches swayed as if cheering on this viewpoint.
"Hush. Hush," they soothed.
"Come. Come," they pleaded.
She savored every promise, every whispered word.
"I dunno…" Sadie started to turn away, to see the others in the marketplace. A coldness crept in, chilling her. She shuddered. A grisly, gruesome scene unfolded around her. "Tina."
"Come on, now. Do not be afraid." Nana's voice again. It sounded warm and syrupy with its Southern drawl, thick and sweet.
Sadie's eyelids grew heavy. Her throat burned, but she managed to say. "My momma, she needs me. I can't come with y'all, now."
So hard to talk. Her tongue didn't want to work right. So tired.
Sadie closed her eyes among the dogwoods' sweet scent.
*
"This is Robin Sneed with WBIR Channel 10 at the scene of what can only be described as a mass shooting. This time at the Dogwood Arts Festival downtown in Market Square. Police are asking viewers to avoid the downtown area. The festival, usually a time for joy, spring, and renewal, now is a place of violence and death."
A few feet away, Tina shuddered beneath the blanket the EMS tossed over her shoulders. Yellow caution tape roped off the area as if it were some exclusive club that no one wanted to belong to—a survivor of a mass shooting. No one wanted the alternative either. Fate dealt her and Sadie a cruel blow. The reporter gave vague descriptions of the shooter. Tina scoffed. That cowardly bastard's soul was deformed. The cops muttered about his deep-seeded grudges, but Tina knew that evil took root in places folks don't always expect—and places they do.
The crime scene was a hive of activity. KPD and others dressed in POLICE jackets, buzzed around the area, like flies among the corpses. A flurry of activity sped up and slowed down simultaneously. Was this shock?
"Blood everywhere." So bright against the white.
Tina's tears flowed so much her eyes swelled and burned. Noise. Wailing. Screams of sirens switched to soft humming and back again. Everything had become jumbled. Nothing made sense.
"Sadie?" she called out.
A short distance from where she stood, her little cousin, Sadie Griffin lay crumbled on the bricked plaza. She'd fell where she stood. A duo of EMS folks hovered around her, blocking her view. Tina tried to distance herself from them, as if she could melt into the blanket, a makeshift invisibility cloak.
Tina closed her eyes, stomach lurching. The scents of copper and gunpowder hung in the air, staining it with death. She couldn't even smell the dogwoods any more.
Dogwoods.
Tina pictured Sadie's meddling with such freedom, but it had cost her. She could still see her, Sadie, practically bouncing in her excitement to be out at the festival. Now motionless. Struck down in her moment of joy.
Tina tasted the salt on her lips. She tasted pain. Grief. Of course, they were salty. Anger burned hot at the injustice of it. The police had caught the gunman—unharmed. That murderer would live.
Would her sweet cousin?
Tina remembered Sadie's face when the bullet plowed through her. Dogwood petals rained down on her. The wind blew them loose, but it looked like they wept at the ugliness of the day. Her dark, round eyes sparked as she watched the dogwoods sway in the breeze. Tina sighed and wiped her tears. She needed to be strong for her aunt and her family.
For Sadie.
*
"She's awake!" Sadie's momma's shout seemed to be piped in from far away. Despite this, the wavering thread of relief came through clear and defined. The thick scent of night blooming jasmine hung along with the harsher hints of something else. Confused, Sadie's eyebrows knitted together. Too much light for it to be night. Sadie's everything hurt as she tried to move or sit up. She tried to open her eyes, but the lights hurt, too. But in that brief eyeful, she could tell she wasn't in her bedroom.
"Where am I?" She managed through cottonmouth. Her lips crackled and she winced again. Each motion brought agony. So she tried to stay still.
"Here. Drink." Her momma handed her a cup of water.
She leaned up on one elbow. Sadie drank, but the I.V. pulled her dry skin on her hand. It bled.
"You at U.T. Hospital." Her momma rubbed her hair and took the cup.
Hospital? Once her eyes adjusted to the glare and the fluorescent's harshness, she looked around the room, as much as she could without moving too much. Then, it all rushed back to the forefront of her mind. She'd been shot!
"Momma, the dogwoods!" Sadie said and struggled to sit up fully. The atmosphere shifted as if certain emotion had been vanquished by her newfound secret knowledge. "The dogwoods are alive! More than that, they spoke."
Maybe Tina heard it too, Sadie thought.
"Shush, baby girl. They gonna be here. Just like e'ry year." Her momma kissed her forehead.
Suddenly exhausted, Sadie shut her eyes. Those dogwoods wagging their blooms all over town, running the thread about the foolishness of men. Tossing away life like ruined and withered petals.
Sadie knew it because she could almost hear them, chattering at the end of her consciousness. She'd join the dogwoods, just like her Nana. Later. She smiled as warmth spread through her. They'd embrace her in their creaky limbs and petal soft blooms.
She'd be ready.
So would the dogwoods.
---
© 2019 by Nicole Givens Kurtz
Author's Note: As a born and raised Tennessean, the Dogwood Arts Festival in Knoxville was an integral aspect of growing up southern. Over time, the festival marked many rites of passage as I grew up and this story combines the legend of the Dogwood, my east southern roots, and my love for horror.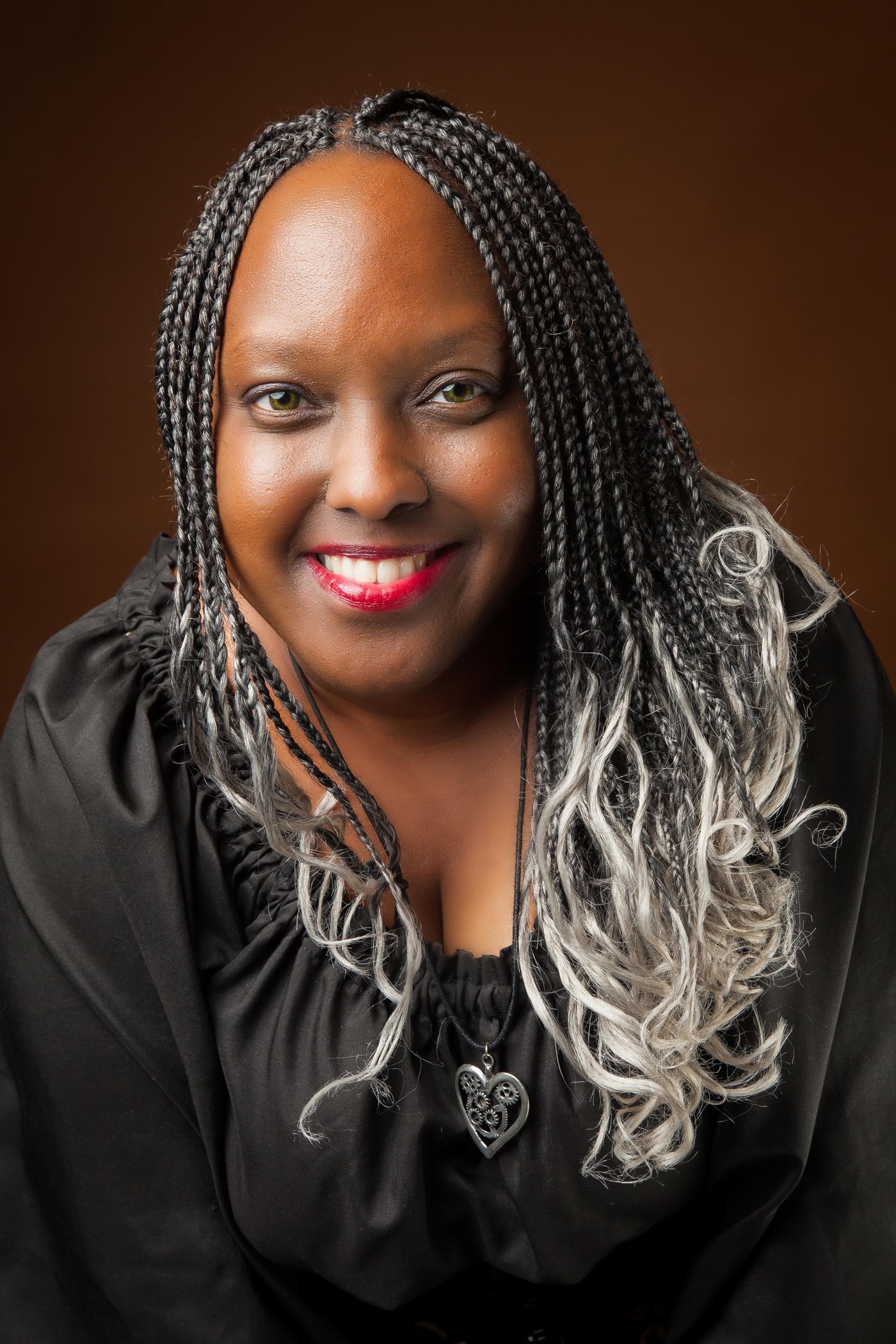 Nicole Givens Kurtz's short stories have appeared in over 30 anthologies of science fiction, fantasy, and horror. Her work has appeared in Stoker Finalist, Sycorax's Daughters, Stoker Recommended Read, Black Magic Women, and in such professional anthologies as Baen's Straight Outta Tombstone and Onyx Path's The Endless Ages Anthology. Visit Nicole's other worlds online at Other Worlds Pulp, www.nicolegivenskurtz.com.
---
If you enjoyed the story you might also want to visit our Support Page, or read the other story offerings.