WE
The airplane is gray and gleaming, rising off the ground into the fog of early morning like a magic trick, obscured and then revealed, impossible. The engines roar too loudly, like they will tear down the sky. They roar and roar, and then—
The transformation. The wind under the airplane's wings buckles as the wings buckle, shake, separate into a beating of hundreds of wings. Out of the fog we come. This time, this first time, we are geese: black-brown wings and furious hearts. We fly awkwardly, at odds with the turbulence; we are newborn, but already the flock is forming as our instincts awaken in the air and we orient ourselves not against the ground or the stars but against each other.
***
Avie
I've always loved birds. When I was five I asked my dad for a bird feeder so I could see birds out my window when I was sitting at my desk doing remote school, but he just handed me his phone and said, "you know how to look up videos." I do know, but bird videos aren't as cool as having my very own bird friends that came up to my window to say hello. And anyway, I already had a tablet when I was five because kindergarten went on remote school after the wildfire that burned down the school building and made us have to drive in the middle of the night to my uncle's house and sleep on his floor for two whole weeks, so I just used my tablet.
I asked a bunch of times for a bird feeder and my dad said, no, we didn't have any place to put a bird feeder, and then even when we moved to the good wildfire refugee housing he still said no, the birds didn't need me to rescue them from the wildfires. But then on my birthday when I turned seven my dad got me a present and it was a bird feeder! It's a special kind with different colored windows just like our apartment building, so you can put different seeds in it so each bird can eat their favorite food. Blue jays eat peanuts! But other birds, like sparrows, only like small seeds, you can tell because their beaks are so tiny!
My birthday was two days ago and this morning I hung the feeder out on the branch of the magnolia tree with some wire, and my dad helped, and almost right away birds started coming! I saw a blue jay and some tiny ones with black on their heads and a bright yellow one that was a goldfinch! My birthday present from my aunt and uncle was an app for my tablet where I can take a picture of a bird and it tells me its name and all its facts like what color its eggs are. I think they talked to my dad so they knew I was going to have birds! This is definitely my best birthday ever.
***
WE
The next time, we are grackles. Bodies the size of a clenched fist, sleek slick ink-black feathers, pale eyes that gleam like pearls in midnight moonlight. We flock at first in the shape of the plane we used to be, remembering how it felt to be bolts and panels, wires and combustion. Each passenger, now winged, remains in our assigned seats for an instant before our bodies realize the seats, too, are black birds and we are all lifted on the currents of air that have been disturbed by our transformations.
We fly.
***
Avie
My bird app has lots of sections, like one section for different kinds of birds that perch on branches, and a section for owls and hawks, and a section for birds that live on the beach. There's a lot that don't live in California where I can ever see them. They live in places where I could never even go, like New York or the Amazon Rainforest or an island in the ocean.
The saddest birds are the ones with a little star beside the place they live in. The star means they used to live there but they don't live there anymore because they're completely dead. Maybe humans hunted them and ate them until they were all gone. Or maybe they got all burned up in a wildfire, like my mom in her car, or maybe they flew away to the moon!
That's a joke, birds don't live on the moon. I know that because I'm in second grade now and we saw a movie of astronauts and robots on the moon and other places like Mars where there aren't any birds. During the movie I looked out my window and I saw a pretty bird I never saw before that was soft and gray and gold-pink. It was looking right at me! I tried telling it about the moon but it flew away.
***
WE
The drone that becomes a Mexican sheartail was manufactured in Mexico. The sheartail darts—we flex our wings, our speed like a flash of light off the water.
The American-made drone becomes a red-throated loon. Another becomes an ivory-billed woodpecker. We goshawk, we fish eagle. We pelican.
We shimmer and disperse, we coalesce. We are becoming powerful.
***
Avie
I can't decide which kind of bird is my favorite. Hummingbirds are really, really pretty. I saw one this morning perching on the tip of the magnolia branch right beside my window! It was small and shiny just like I remember and it had a bright red patch on its throat and it looked right at me with one eye and then the other eye! I think hummingbirds are my favorite.
My bird app says these kind of hummingbirds are star-birds: "Allen's hummingbirds are extinct in the wild." I'm getting really good at reading because my tablet came with an app that tells you what words mean and how to say them out loud. I wanted to ask my dad why my bird app says my hummingbirds are extinct, which means all completely dead, when there was one in the magnolia tree, but he had his work headphones on and his boss gets annoyed if he misses answering a customer. So I didn't have anyone to ask. Maybe my tablet is wrong and the bird in the tree was a different kind of hummingbird. The picture I took was sort of blurry.
***
WE
For many days the planes and drones cower on the ground. We circle the globe on the high currents, gaining flock members in ones and twos, from wind-blown balloons and children's toys. In our bones we remember the sky full of our wingbeats, our shadows darkening the ground like a storm system from mountain to mountain.
Nectar-eaters and animal-eaters dispute approaches—there we argue, here we converse, there we shriek. Our flock contains contradictions, but we parliament, and eventually we settle under the leaves and soften our voices. Soon, the airplanes take wing and we wait, using the night-hunters' stillnesses, until the sky is filled with thousands of machines. Now we rise.
***
Avie
The funniest thing ever happened today! I was heating up my breakfast roll in the microwave and outside the window I saw so many birds and they were all walking on the ground. They were all sizes, with long ostrich legs and short duck legs and black and brown and orange and blue… some of them were big fat gray birds with funny faces. Those ones I didn't even need my bird app to find their names because I already knew they were dodos!
I wanted to tell my dad that there were dodos in the courtyard, but he had his headphones on and was talking in his weird customer voice, so I just waved at his boss through the webcam and I went and got my tablet so I could look up the facts for the birds who were visiting me.
Some of them I couldn't get good pictures of because there were so many of them. It was birds all over, on the steps up to the apartments across from us, and on top of Ms. Holloway's car that she has a permit for because Nika uses a wheelchair, and a whole crowd on the grass in the middle and everywhere!
The ones whose names I could find were all star-birds. Every single one! Except they kept moving around a lot so maybe I missed a lot of them that weren't. Most of them were in the section of the app on birds that can't fly at all, which I didn't know there were so many! And then my dad realized I was late for video school and he made me close my bird app and log on.
***
WE
Now we are many. Now we are no longer lonely. Do the ground-dwellers know what we are becoming? They send fighter jets after us that scream through the sky like they are about to die and are so, so frightened of the end of the world.
Instead of an end, we offer them a beginning. The jets become swans, and the pilots also become swans. The bullets from their powerful guns take flight and become cliff swallows and storm petrels and Carolina parakeets.
We whistle and screech and sing a laughing racket like every sound at once. We are all one flock, tumbling through the sky like nothing at all can hurt us.
***
Avie
In school the kids in my class were talking about how the airplanes disappeared and no one knows why or how or if they'll ever come back. Austen was crying and Deshawn told her she wasn't allowed to cry because it was his cousins who disappeared off a plane, not hers, and then T'resa said she thought it would be fun to be a bird, and then Austen screamed at her to shut up and that it wasn't true that anyone turned into a bird because that was impossible. Then our teacher muted us all and said he was turning school off for the day.
My dad was still working and I'm not supposed to interrupt him even if I'm lonely because he has to work hard so some day we can move out of refugee housing and I can have a bedroom. I wanted to ask him whether people could turn into birds and it made me mad that I couldn't! I know Austen was really mad about it and so was Deshawn even if he didn't scream at anyone, and I didn't say so because Austen was crying, but I'm like T'resa. Birds have more friends than just video school friends that get turned off when your teacher is mad that someone yelled! Birds have flocks which means they have friends all the time.
I went outside and waved to all the pretty birds perched on the roof of our apartment building—they had such pretty tails, like black and white arrows and swooping green ribbons. I'm sure they were star-birds, even if I didn't know their names because I didn't have my tablet with me. They didn't wave back but they bobbed their heads and whistled hello, and that made me feel a little better.
I practiced jumping down the stairs for a little while, to see what might happen. I was going to try to climb up the railing and jump off there, to see if that would be high enough to turn into a bird, but Nika's mom stuck her head out the window and said I couldn't.
***
WE
By the time the ground-dwellers and their metals stop flying altogether we are hundreds of hundreds of millions. We are an ocean of wings beneath the bright sun. We encircle the world like the water-ocean and our wings outmatch the cold, wet waves.
With the sky closed to them, the ground-dwellers live slower. So many are angry about reaching the limits of their power, but each bullet they fire only increases our numbers.
Those who are not angry are quieter. Some of them come to us, and we beauty them, gently. We invite them to sing.
***
Avie
This morning the pretty gray and gold-pink birds outside my window didn't fly away even when I put my hand on the glass. I like them. They're nice.
I told my dad I was going outside to play and he said I could go by myself if I promised to stay in the courtyard because he was busy working and Nika and her mom were outside. Even though Nika's a lot older than me she still plays with me sometimes, but her mom said not today because they were going to the doctor to check on Nika's lungs, which got smoke inhalation during the fire that got their house.
Even though I promised my dad I would stay in the courtyard, I went around the corner and down the street and up the hill and climbed up the big rock at the top of the hill where I like to sit sometimes because you can see the tops of the roofs of the buildings where all us wildfire refugees live. I thought about practicing jumping off the rock, but I didn't.
I felt kind of sad and mad and it was cloudy like a sore throat. Like there was a wildfire burning far away but still close enough to smell the ash from all the dead trees and dead squirrels and dead deer and dead moms that got all burned up in their cars. But then I heard birds singing, the soft sound of the gray-gold-pink birds my app says are passenger pigeons even though that's impossible because they're extinct. I looked around and saw birds landing in the bushes, in the trees all around me, in the grass. A pigeon landed on the rock beside my foot and cocked her head at me. Her eyes were black with a pink ring on the edges like she'd been crying, and it made me feel better to know someone else felt the way I do.
There were other kinds of birds in the flock, some small brown seagulls and herons with long legs like the chopsticks in takeout teriyaki, and robins and blue jays and orioles, who aren't star-birds, and a whole cluster of bright beautiful extinct hummingbirds that swooped and darted and then hovered all in the air above me.
At a signal I couldn't hear, the flock launched themselves back into the sky. Their wings blew the hair back from my face and I knew they wanted me to fly up into the sky with them. I couldn't hear the signal to go, but in a way, I could hear it. I could feel it in my body lifting me up. But I didn't know how to do it.
The pigeon and the hummingbirds were still there and they looked at me and I looked at them and then down at my hands and my arms which were turning iridescent green-black like a hummingbird and then I thought, maybe my mom could be like a star-bird, like a hummingbird, completely dead but then not dead at all, and when I jumped off the rock I spread my wings.
---
© 2023 by Joanne Rixon
2548 words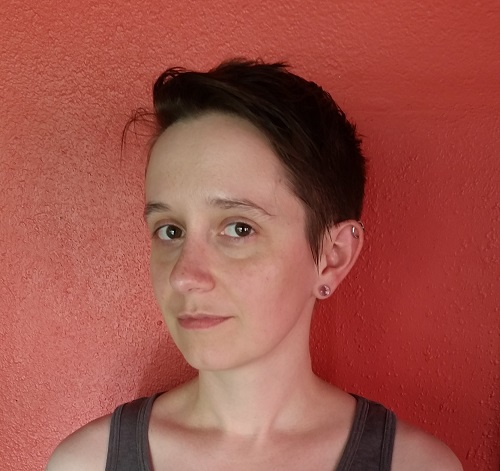 Joanne Rixon lives in the shadow of an active volcano with a rescue chihuahua named after a dinosaur. They are a member of STEW and the Dreamcrashers, and are an organizer with the North Seattle Science Fiction and Fantasy Writers Meetup. Their poetry has appeared in GlitterShip, their book reviews in the Seattle Times and the Cascadia Subduction Zone Literary Quarterly, and their short speculative fiction in venues including Terraform, Fireside, and Lady's Churchill's Rosebud Wristlet.
---
Joanne Rixon's fiction has previous appeared in Diabolical Plots, with "The Cliff of Hands". If you enjoyed the story you might also want to visit our Support Page, or read the other story offerings.