written by David Steffen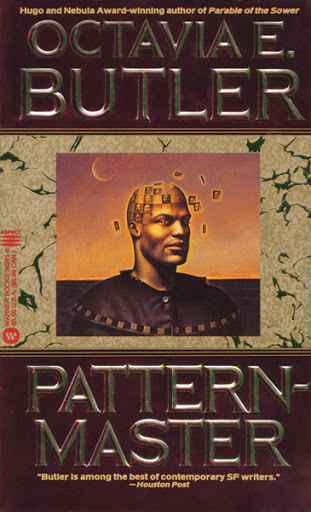 Patternmaster is a 1976 science fiction novel by Octavia Butler, first book in the publication order of the Patternist series, and the final book chronologically in the storyline.
The story takes place in a distant future where the two dominant groups of humanity are the Patternists (powerful networked telepaths that are the result of selective breeding for telepathic traits) and the clayarks (semi-human creatures created by mutated human DNA altered by an alien plague). The Patternists have long been the dominant group, with their powerful telepathic, telekinetic, and healing abilities (with individuals being stronger at certain abilities), and the clayarks mostly living as roving bands with stolen weapons in the wilderness between defended compounds.
But the order of everything is in jeopardy as the Patternmaster, the most powerful telepath who ties all the rest together, may not have long to live. The clayarks seem to sense the uncertainty and seem to be massing for greater attacks.
The protagonist of the novel is Teray, one of the children of Rayal. With the upcoming succession, assumptions and understanding about the existing order no longer stand and Teray finds himself just trying to find a place to stand in the world that seems to be shifting all around him.
This is the chronological conclusion that the rest of the series was backstory to. Wild Seed is still my favorite but I can see why this spawned the rest of the series–political intrigue between powerful telepaths and their powerful enemies. Well worth a read!