written by David Steffen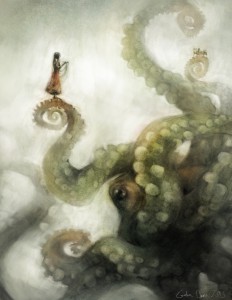 It occurs to me 20 days into a 26 day Kickstarter campaign for the Long List anthology that I have not actually mentioned the Kickstarter campaign on my own website.  It has been a crazy 20 days and so much has been happening this particular thing has been postponed while I was working on other factors related to the campaign.  Well, better late than never, and with 6 days left in the campaign there is still some time for those who are interested to back the project to get their rewards and to help push toward the couple of remaining stretch goals.
You can read more detailed information on the Kickstarter page, but I'll give a brief rundown here.
Purpose
Every year the Hugo Awards celebrate short stories (and other content) related to SF fandom as nominated and voted by supporters of WorldCon.  The works on the ballot receive a great deal of attention as they are distributed in a packet to voters and the voters discuss them.  Every year after the awards are given out, the Hugo administrators publish a longer list of nominated works which receive much less attention though they are also works that were greatly loved by the voting fanbase.  The purpose of the Long List anthology is to publish as many of the works from that longer list as possible.
Goals
The campaign's base goal was relatively modest–only covering the purchase of nonexclusive reprint rights for the stories in the short story category, with stretch goals to add novelettes and novellas.  The campaign got off to big start with the base goal being reached just 2 days into the campaign, and the stretch goals being reached only a few days later.  Since the stretch goals were reached so early in the campaign I got to work making ever larger and ever more exciting stretch goals.  This added up to three stretch goals to produce an expand an audiobook of those stories for which audio rights could be acquired, produced by Skyboat Media who you may know as the folks who produce the excellent award-winning Lightspeed Magazine podcast.  The first of those goals has been reached, so there will be an audiobook which will contain 8-9 of the short stories.  There are two stretch goals remaining to add novelettes and novellas to the production.  I am very excited to have the opportunity to work with Skyboat Media–they have produced many of my favorite podcast fiction recordings and I am very excited to hear their productions.
Table of Contents
The following is the list of the table of contents of stories that will be part of the anthology.
Note that there will be 3 formats of the anthology:
1.  Ebook:  Will contain all of the stories (180,000 words of short fiction).
2.  Print book:  Will contain all of the short stories and all of the novelettes. May contain novellas depending on printing constraints. (around 140,000 words for short stories and novelettes)
3.  Audiobook:  Will contain at least 8-9 of the short stories (close to 40,000 words, which I think comes out to perhaps 4 hours of produced audio?), and if higher stretch goals are reached may contain novelettes and novellas which will add more content.
The following is the full list of stories:
Short Stories
"Covenant" by Elizabeth Bear
"This Chance Planet" by Elizabeth Bear
"Goodnight Stars" by Annie Bellet
"The Breath of War" by Aliette de Bodard
"The Truth About Owls" by Amal El-Mohtar
"When It Ends, He Catches Her" by Eugie Foster
"A Kiss With Teeth" by Max Gladstone
"Makeisha in Time" by Rachael K. Jones
"Toad Words" by T. Kingfisher
"The Vaporization Enthalpy of a Peculiar Pakistani Family" by Usman T. Malik
Novelettes
"The Magician and LaPlace's Demon" by Tom Crosshill
"The Litany of Earth" by Ruthanna Emrys
"A Guide to the Fruits of Hawai'i" by Alaya Dawn Johnson
"The Bonedrake's Penance" by Yoon Ha Lee
"A Year and a Day in Old Theradane" by Scott Lynch
"The Husband Stitch" by Carmen Maria Machado
"We are the Cloud" by Sam J. Miller
"Spring Festival: Happiness, Anger, Love, Sorrow, Joy" by Xia Jia, translated by Ken Liu
"The Devil in America" by Kai Ashante Wilson
Novellas
"The Regular" by Ken Liu
"Grand Jeté (The Great Leap)" by Rachel Swirsky
Rewards
There are a variety of backer rewards left for those who might be interested, listed briefly here.
Copies of ebook, print book, audiobook or combinations thereof.
A sonnet or sestina written by Ruthanna Emrys
A question for Rachel Swirsky which she'll answer in a blog post
A "Women Destroy Science Fiction" (Lightspeed Magazine special edition) audiobook autographed by Gabrielle de Cuir
Special thank you within the audiobook
11×17 poster prints of the wonderful cover art for the anthology "A City On Its Tentacles" by Galen Dara)
Custom digital art by Sam J. Miller in which he will sketch an animal of your choice in the occupation of your choice
Studio recording copy of the Long List anthology with director notes and narrator autographs
Audio recording of your story by voice actors Stefan Rudnicki, Wilson Fowlie, or Graeme Dunlop
Voice mail recording by voice actor Stefan Rudnick (of Skyboat Media)
Story critiques by Yoon Ha Lee, Anaea Lay, or me
Consultation with Skyboat Media regarding suitability of book for audiobook format
Lunch with Skyboat Media at WorldCon 2016 in Kansas City
Breakfast and watching recording session at Skyboat Media in Los Angeles
Audiobook co-producer credit