written by David Steffen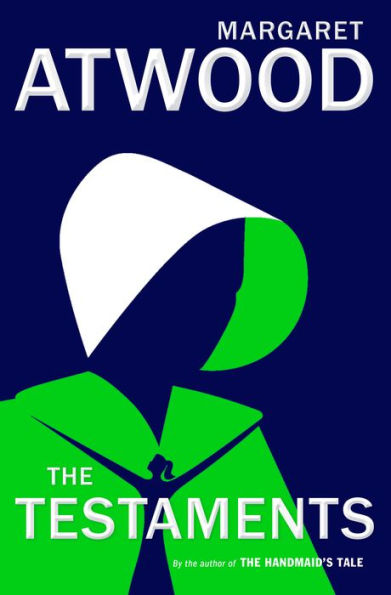 The Testaments is a 2019 near-future (or I guess alternate-history at this point?) novel by Margaret Atwood, a sequel to the well-known 1985 novel The Handmaid's Tale (reviewed here) (which in itself spawned the ongoing Hulu TV series of 3 seasons, seasons 1 2 and 3 reviewed here). Note that for the purposes of this novel, the tv series is not part of the same continuity, so don't expect the two to reconcile.
The Testaments takes place over a span of time but beginning approximately fifteen years after the events of The Handmaid's Tale. The Handmaid's Tale was the reader's introduction to Gilead, a Christian fundamentalist dystopic nation born from the ashes of the United States after a violent coup. The first book followed a single point of view, of one of the handmaids known only as "Offred". The handmaids are a lower class in Gilead society, who are believed to be sinners, and who are considered to do a public service by serving as breeding stock in this future where healthy birth rate has plummeted.
In this new book, rather than a single point of view from a handmaid, there are three first-person points of view interleaved with each other. The first one is a familiar character from the first book: Aunt Lydia, one of the women who was responsible for acclimating the Handmaids to the brutal new conditions they would be living under, taking on the guise of a teacher but with brutal torturous methods.
The other two points of view are young women, one young woman who is the daughter of a Gilead commander, and the other a young woman living in Canada. Their importance and connection to each other becomes apparent as the story unfolds.
The novel is an interesting addition to the tale of the nation of Gilead, but it lacks the impact of the first novel in large part because it doesn't have the novelty of the original. While it's interesting to see some different points of views from different occupations, and it casts some new light on the characters (Aunt Lydia in particular since we'd never had her own account before). It's well worth a read, and it flowed from beginning to end, but it felt like an addendum to the original story to tie up some things than something strong in its own right (when I thought that the mystery of the original was a strength of that book).
So, it's worth a read if you thought the original was powerful, or if you have followed the TV show as an alternate series of events from a similar origin, but not as impactful as the original.