Content note (click for details)

Content note: allusion to violence
It was a Friday evening when the boys rolled in, of course. The nights were uncurling from themselves a little, stretching out toward high summer, and the first flicker of the boys' sharp-oiled hairlines was a sure sign the school year was well behind us, nothing but river water and sunburns ahead.
I was manning the cash register in the bottle shop downstairs—LE CAV DU VIN, the new sign out front proclaimed, like anybody in town was going to go for fancy fake French on a package owned by Italians for as long as our part of New York had belonged to the British. DINO'S, blared the restaurant's sign in blinking red and then—now—right next to it LE CAV DU VIN in scrolly white. The new manager sure had a high opinion of herself. You didn't catch her at the cash register– no, that was the purview of minimum-wage peons only, and damn if I wasn't still making the barest of minimums despite working at Dino's four summers running. No loyalty these days, is what my father said, all wink-nudge like maybe I'd finally take his advice and go down to the union shop on Crescent Street and learn to be a plumber. The promise of tips on the nights I waited tables upstairs kept me honest.
The boys were big tippers.
Nobody'd seen them in town yet this summer—they were a seasonal occurrence, blown in from the coast or maybe the city, the only tourists who appeared year after year in our 300-miles-from-nowhere town—or at least I hadn't seen them, and not even a warning text from anybody who reliably had the gossip, but here they were, converging. Inevitable.
There were four of them cruising straight for the local grapes, or maybe five: that was the thing about the boys, you figured you had 'em nailed down and then another shot up from behind the Fireball display, fingers above their head in devil horns to mock the tacky cardboard standee. Another'd be popping open mini travel-size Smirnoffs, guzzling them like Capri Suns, while the ringleader, whichever it was that night, doled out wads of bills deliberately, smiling.
My old boss, the third Dino, God rest his soul, had a sense of humor about it. You had to, with the boys. No telling what they'd get into if you pissed 'em off, they were like cats that way, sleek and pretty and sharp-eared and absolutely fucking amoral.
The ringleader hadn't made themselves known, but they would, one way or another. I edged my phone out of my apron pocket, watching sidelong. Maybe it was the tallest, wearing jeans that were too short but in that way that you knew was intentional, probably tailored on purpose to show off ankles carved from obsidian. It might be the loud one, laughing with a red tongue over red, red lips. Then there was the tiny one, bubbly like the knock-off Aperol spritzes Joey's girlfriend liked to drink on the dock, champagne curls and golden eyes and bronze-spattered skin, and the last of the boys looked like a shadow, soft and wispy-black, sketched along the floorboards and drifting in the air. Or was that the last? I still couldn't tell—still, as I watched them and texted one-handed to tell Joey and the rest of our crew that the boys had arrived for the season, still couldn't number them, still they swam in my head like I'd been ripping into the Jack Daniels on my break.
Something moved in my stomach, or lower.
The new manager coughed behind my shoulder. "What did we decide about texting at the register?"
I still called her new, we all did, even if she'd bought out Dino the Third after he retired to the Catskills more than half a year ago now and then kicked off with a heart attack before he got to enjoy the scenery. She was always frowning, Delia, her whole body frowning before the expression hit her face, but right now her face was a frown too.
We hadn't decided anything, either way. Dino the Third had never cared if I texted at the register, but Delia thought it was trashy, that it put across the wrong aura, that kids today have a much higher incidence of compressed spinal discs, did you know that, due to staring down at phone screens all day? She moved on before I decided whether it was worth it to defend myself. The boys making an appearance was big news. Everybody needed to know I was the one seeing them first.
"Do you know those…?"
She meant the boys. Weird as hell sort of question. Everyone knew them. I said, low, "What do you mean?"
"Are those–" She was all at a loss, tongue edging around her lips, trying to figure out a word to use. "Friends of yours?"
The boys weren't anyone's friends.
I pretended foolishness, plastered a who-me look on my face and tilted my head. The state of things at Dino's these days went easier if Delia thought I was a dumbass. She was annoying enough that I was counting the days 'til summer ended, goddamn, what a cramp in my style—to look forward to 7:30AM classes and the half-hour bus ride to the consolidated high school because I hadn't managed to save enough this summer for a car. Or maybe annoying was the wrong word for Delia; it was more that she was a presence, like the space the youth pastors told you to leave between you and your dance partner, a Jesus-shaped void. Even if you didn't believe in it, you couldn't ignore it.
Dino the Third had never been a presence, and probably his pops hadn't either, just drifted in to rearrange some of the chardonnays in their rustic apple-crates and drifted out again for a smoke. I didn't steal, they didn't talk to me. I rang up the customers, they paid me. And here's Delia with her fingers in everything, bringing extra rolls of quarters to the register when I didn't need more and upending every display on Friday like clockwork, switching the bottles of Tanqueray with the brandies just to fuck with the poor boozy regulars—at least that was how it seemed. Seemed like she didn't appreciate regular customers, like she looked down her nose at 'em, and sure, if the Dino's package had a frequent-buyer program, some of the townies would've been in the drunk tank more than they were, but they paid. No matter what you're selling, regulars keep the lights on.
The boys weren't regulars, exactly, but it was generally agreed that they kept the town's lights on.
She watched them all the way down the aisle of Australian whites, Delia, her eyes moving and the rest of her stock-still. The ringleader—I'd figured it out at last, it was the bubbly one—picked up a bottle of pinot grigio almost the color of their hair. A month from now half the kids at school would've bleached their hair trying to match. It was kind of a thing in town, once Labor Day passed and everyone was back in school: you'd end up scouring the vintage shops and the outlet mall by the university, scraping together a new uniform for the year that looked like the dregs of the boys' closets. Nobody ever managed to pass for one of the boys, but we tried.
It wasn't shit you'd pull during the summer, when the whole troop of them were here; they were too lofty to figure you were mocking them, but it was more that nobody could touch them. There was no point in even attempting it. It wouldn't catch their eye, they wouldn't be impressed, if they were going to look at you they were going to regardless of whether you were wearing designer or your dad's hand-me-down Carhartt gaiter. Everybody wanted the boys to look at them, but by the time you were my age you'd given up being overt about it.
Either you'd flail through summer seeing them around town, feeling like you were drowning every time they ignored you, or you'd get the action of your life. You'd wake up the next morning feeling like your soul had been sucked out of your cock and grateful for it (this according to Joey, like he knew). You'd swagger into work and even if you never saw any of the boys again, even if the leaves changed that day and they were gone on the wind, you'd never forget.
All dependent on them.
"You're seventeen, isn't that right, Mr. Diaz?" said Delia. Mr. Diaz, always, I doubted she even knew my first name. I nodded, scanning a handle of Jameson real slow, not letting the bottle clink too hard against the sensor in case her ears perked up at the notion that I was abusing merchandise, and in front of a customer. The regular buying the whiskey stared at me, chewing his mustache. Delia ignored him, zeroing in on me. "And you'd never think to try to buy liquor underage."
I realized she thought the boys were underage. I almost laughed at that, and at the idea that before ol' Delia had come around and whipped this ship into shape, I'd never availed myself of the coolers of jug wine or swiped vodka from the storeroom. Dino the Third hadn't cared too much. Clapped my shoulder now and then when he bothered to breeze in, joked in his musty-cigar-shop voice about boys being boys.
The boys weren't exactly boys, which was probably part of the equation giving Delia a hernia. It was just easy shorthand. A catch-all. Even the lucky townie bitches and sons of bitches who'd scored with the boys, in my day or my parents', couldn't have said with any certainty the parts involved, the mechanics of their bliss. Here: the bubbly ringleader, petite and prettier than anything out of Hollywood, jeans that clung and curly hair. The tall one, supermodel-elegant with wicked lips, and the red-mouthed laughing one and the shadow, hair like an inkwell, wearing a shirt unbuttoned halfway to their waist.
The general effect was show-stopping sex.
Charisma like an avalanche, like the theme song of Jaws playing faintly as you walked through town and then rounded a corner and realized why. The town was breathless for them. Ticked down the days until the boys appeared, opened a tab in every bar and restaurant that never closed for the boys, swept the streets and chlorinated the YMCA pool and rounded up feral cats to make way for the boys. Local goddamn holiday, high summer and the boys.
"No ma'am," I finally told Delia, and the Jameson regular snorted, tucked his whiskey in its brown bag against his chest and carried it to the stairwell leading back up to Dino's proper.
Delia hmmed. They were nearly to the register, the boys, carting half the store with them. Dino the Third had never charged them. I remembered my first summer working, paid under the table because I was only fourteen, and most of all I remembered the chief among the boys that year; I remembered a throat opened wide right in the store and liquor poured down it, a steady white hand and a steady vein pulsing in a white throat, larynx throbbing, the others howling and clapping and chanting. Remembered a neat roll of bills withdrawn from a clip and rejected, Dino's gray head dipping, more solicitous than I'd ever seen him. Remembered stumbling home after my shift like I was the one drunk, though Joey and I hadn't discovered the glories of out-county ditch vodka yet. Remembered what it felt like coming to that memory of the boys' ringleader swigging gin clear as water.
"We'll need to see ID, of course," Delia said. My heart swooped right down into my sneakers.
The bubbly ringleader paused, head cocked. The rest stilled, murmuring and giggling, eyeing Delia almost appreciatively.
"Oh," said the ringleader, and my heart kept going, down, down, boring a hole to Hell, "why, how very vintage. I'm afraid I didn't bring it with me."
I'd heard boys talking in exaggerated put-on ways like that, rahly top drawah, and some talking like they were fresh-caught out of Lake Erie, and some who talked like professors and not the SUNY kind. In general, you didn't want to hear the boys talk. Didn't want to give them a reason to. They'd slide you their attention, maybe, if you were lucky, but you didn't try to draw it.
My hands were busy, already bagging the boys' loot no matter what Delia thought about it, itching to text Joey about this unbelievable gaffe the new manager was committing in front of God and the town and everyone. Because she was just going all-out, not giving an inch, not a thought toward reading the room.
"I'm sorry," she said, "it's the store policy. We do require identification for all customers."
I'd IDed the Jameson regular because Delia was hovering over me. Wouldn't have otherwise. Who ran around IDing people their grandparents' age?
"I know them," I said, and regretted the living fuck out of it, but what was I supposed to do? The boys' eyes snapped to me, all at once, a flock of scarab beetles touching down. "I mean, Delia–"
"You know our policy, Mr. Diaz." Delia, I'll say this for her, wasn't going down without a fight. She adjusted her nametag, the one that said DELIA MONTGOMERY in letters that matched CAV DU VIN outside the door, I suppose as a reminder that I was supposed to call her Ms. Montgomery. "All customers present identification. New York takes the delinquency of minors very seriously."
The shop was so quiet I thought I could hear Tatiana upstairs slapping a customer for grabbing her ass at the table. The boys' bottles clinked together as I slid the last of them into a bag. Delia took the paper sacks from me, turning her glare between me and the bubbly ringleader. Clear as day she didn't know what she'd done.
The boys were an institution. Nobody told them no, and it wasn't like they used that as an excuse to run wild over the town, but… there was a Biblical feel to the place, in the days immediately after the boys left. We all looked like locusts had stripped us of anything green. It was hangover time. You wanted to drink a lot of water and wear sunglasses indoors. Joey told me once that it reminded him of those infomercials on TV—if you experience an erection for longer than twelve hours please call our hotline—because it hurt, in truth, it stung, that kind of stimulation, but you still wanted it. Nobody would bar the boys from town, even if they could. Nobody would demand to see a boy's ID, even if their perfection could be captured by the DMV's camera.
The shadow laughed, silky as springwater. My heart was no longer anywhere in the region of my chest.
"I quit," I said, quickly.
I'd already said too much. If Delia hadn't been here I'd have rung the boys up and watched them flow out the door again to a boat party or a rager at the old mill-house, and just texted Joey and the rest the big news, but she was here, and honestly wasn't that fucking sad, a grown-ass woman and not even bad-looking with nothing better to do on a Friday night but come into work—she was here and they were here and maybe she was new in town but somebody should've clued her in. Somebody should've noted, in the little welcome-to-Vestal packet, how things ran, how the boys were prime customers, how the summer flowers sprang up when they walked through and the clocktower at Mary Queen of the Universe chimed when they laughed. Somebody should've told Delia the score before she went and got her head ripped off. Somebody was going to pay blood for her big mouth, but that somebody wasn't me.
"Excuse me, Mr. Diaz?" she said, blinking at me like I was the thorn in her side, like there wasn't a tidal wave poised to drench both of us.
"I quit," I said again, my apron already off and tossed on the counter, and I backed out from behind it, bumping through the swinging door. You didn't turn your back on the boys unless that's what they wanted, unless their arms were around you, their mouths on the nape of your neck. "Have a good night, Delia." She wouldn't, holy God she would not. "Gents."
Gents. That was a safe thing to call them. Gents, boys; rakes and molls, sometimes, from people my grandparents' age; fillies, flaneurs—some fancy word, that one, something about walking—and really they weren't picky as long as you were polite, if you had cause to speak to them, or about them. In my case, not speaking to them, at least in farewell, would've been the wrong move. The wrong move in Delia's case had been opening her mouth to begin with.
I shut the stairwell door on her scream.
---
© 2022 by Diana Hurlburt
2800 words
Author's Note: "Downstairs at Dino's" happened because I heard "The Boys Are Back In Town" on the radio for the millionth time and thought, What if the boys' return was the herald of something larger, even ominous? Somehow, channeling some Shirley Jackson vibes a la "The Summer People" seemed like the natural next step.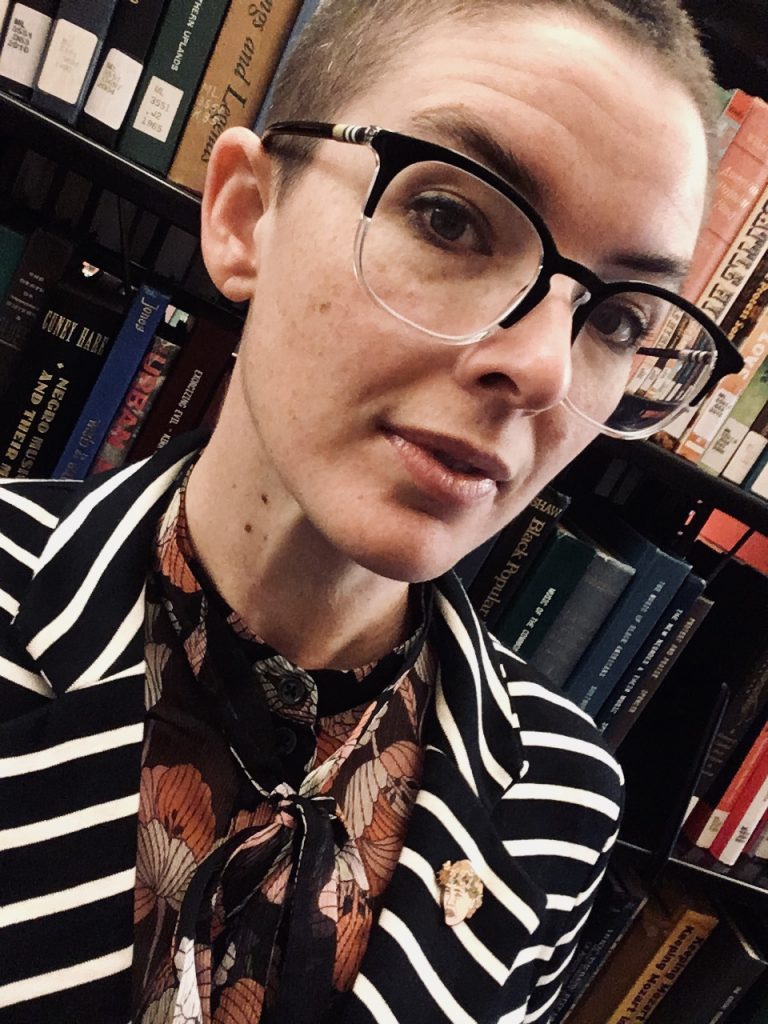 The author is a librarian, writer, and Floridian in upstate New York. Selections of her short work have appeared most recently in Moonchild Magazine, Sword and Kettle Press's mini-chapbook series, and the anthology Arcana, and are forthcoming from Neon Hemlock and Nyx Publishing.
---
If you enjoyed the story you might also want to visit our Support Page, or read the other story offerings.