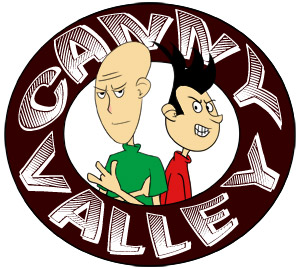 Hey folks! Remember me? Anthony Sullivan? You know… the other guy who supposedly contributes to this site?
Ahh well, I can understand if you don't remember me. I've been AWOL for quite some time working on my visual art. Well that work has finally borne a little fruit in a new comic project that myself and the very funny Scott Wolf have started.
Canny Valley is a thrice weekly web comic with a focus on gaming and internet culture. with my art and Scott's cleverness we hope you'll give us a chance to entertain you.
Please take a moment to jump over to the site and check us out. Then come back here an let us know what you think! Also, I'd like to see if there is interest in seeing a making of post that walks through our process from inception to final comic.
Thanks to everyone for your time and support. This has been a long time in the works and I'm so excited to see it finally released.