written by Laurie Tom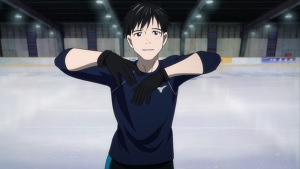 Figure skating has always been my favorite event at the Winter Olympics, having grown up watching it with my parents, and then continuing on my own as an adult. No other sport occupied my childhood nearly so much, so when Yuri on Ice was announced, it was a given that I would watch it.
Yuri on Ice is gorgeous just taken as a figure skating anime, but it's also a lot more than that, being one of the most progressive anime series to feature a gay relationship without overly fetishizing it.
Yuri Katsuki is twenty-three years old when he flames out at the Grand Prix finals, signaling what he suspects will be the ignominious end to his figure skating career. It doesn't help that he's confronted in the bathroom after the competition by up-and-coming skater Yuri Plisetsky, who is going to make his debut at the senior level next season. Plisetsky doesn't feels there's room for two Yuris, so wouldn't it be better if Katsuki just retired?
Our Yuri nearly does, but despite his failure, he's actually a very good skater, and he would have to be to make the Grand Prix finals, which only accepts the top 6 at the end of a series of skating tournaments. What happened to Yuri in the finals is not unheard of or even that uncommon to anyone who's watched the sport for a while. Sometimes despite having talent and years of hard work behind them, an athlete fails in that one moment and then the medal is gone.
Fortunately for Yuri, a friend's kid records and uploads a video to social media of him performing the exact routine of the man who did win the Grand Prix, Victor Nikiforov, who is also the reigning world champion. Victor sees the video, and something in Yuri, which causes him to drop his own skating career and fly to Japan so he can become Yuri's coach.
From there, the story takes a fairly predictable course. Yuri gets back into shape and Victor finds new ways to motivate him because in some ways it's a lot harder for Yuri now. He's not the new kid on the block anymore, and one of his early competitions for the new season has him facing challengers who are several years younger than him.
Due to his flame out, he doesn't have the opportunity to return immediately to the Grand Prix, but has to prove himself again through a qualifier.
Considering that figure skating is an artistic sport that lends itself to visual presentation, I'm surprised it took so long for it to be turned into an anime, but it may be because it's such challenging work beyond what the average animation studio is used to choreographing.
For a twelve episode series, there is a lot of figure skating. Yuri attends four competitions and performs largely the same short and long programs at all of them (which is expected), but the animation team manages to keep things fresh by intercutting other scenes and flashbacks, choosing which parts of the program to show, and by altering what happens to Yuri as he sometimes botches a landing, touches a hand to the ice, or even faceplants.
Though I can't say animation is never reused, it's shocking considering how much effort must have gone into it. Unlike a lot of anime that can fake action and movement through speedlines and or camera movement, Yuri on Ice needs to look like ice skating, especially the skating viewers are used to seeing on TV.
What comes out is beautiful. I can't get over Yuri's step sequences. I don't think it's as hard to animate a jump since a triple axle happens fast enough that the casual viewer likely can't tell the difference between that and a double, but the step sequence has a lot of quick and deliberate movement, and it's not something most animators would casually be familiar with. Moreover, it's supposed to be one of Yuri's strong points, and it looks good.
The animation team really did their homework, as the show follows the real world Grand Prix of Figure Skating competition. Scores are realistic, as are conversations about risk versus reward regarding whether to perform the more difficult jumps. The music director must have had a field day as all of Yuri's competitors have wildly different songs to go with their choreography. There is no generic song that plays during a skating competition. Everyone has their own, as they would in real life.
The other skaters that Yuri meets are also fabulously diverse. Though there are expectedly European skaters, Yuri's former rinkmate is from Thailand and the representative from the US is Latino.
While the figuring skating storyline is what drew me in, what broadened awareness of Yuri on Ice and made it one of the most talked about anime of the fall season is the romance that develops between Yuri and Victor.
Japanese media is typically not good about depicting queer relationships, often designing them to be comic relief, pander to hetero members of the opposite sex, or only flirt with the possibility that the characters are gay by leaving the relationship ambiguous enough that it doesn't matter.
Yuri on Ice removes the ambiguity while also making Yuri and Victor fully realized characters who are much more than eye candy for the audience. We would be invested in Yuri regardless of his sexuality, which makes it more powerful that he is gay and unashamed about it.
I highly recommend Yuri on Ice. Even if figure skating and romance isn't quite your bag, it's so well put together that it's worth checking out.
Number of Episodes: 12
Pluses: gorgeous and frequently realistic figure skating, progressive gay romance, amazing and varied soundtrack
Minuses: most competitors come and go without much fanfare even though Yuri should at least somewhat know them, sometimes faces get a little too cartoony in order to show humor
Yuri on Ice is currently streaming at Crunchyroll (subtitled) and Funimation (dubbed).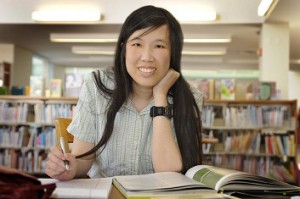 Laurie Tom is a fantasy and science fiction writer based in southern California. Since she was a kid she has considered books, video games, and anime in roughly equal portions to be her primary source of entertainment. Laurie is a previous grand prize winner of Writers of the Future and since then her work has been published in Galaxy's Edge, Strange Horizons, and the Year's Best YA Speculative Fiction.