written by David Steffen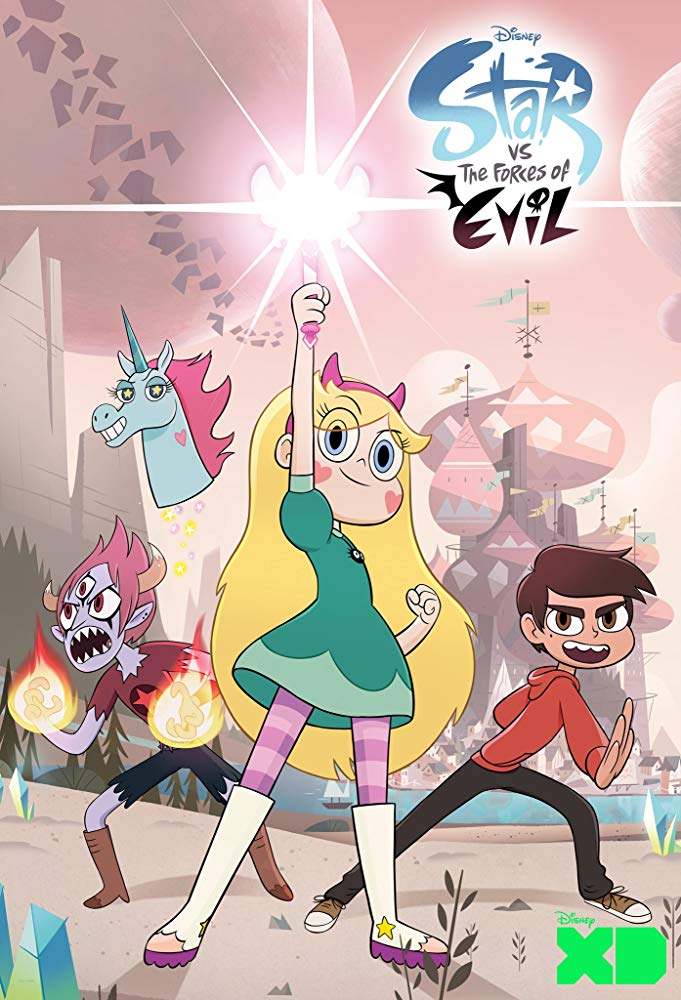 Star Vs. the Forces of Evil is an action comedy cartoon about an interdimensional mage-warrior princess (Eden Sher) who was sent to Earth for a while where she made friends with earthling Marco Diaz (Adam McArthur) . Season 1 was previously reviewed here, Season 2 reviewed here, and Season 3 reviewed here. Season 4, the final season of the series, aired between March 2019 and May 2019. This review will have spoilers for previous seasons.
Season 3 ended with the resolution of an epic threat against the kingdom of Mewni from the half-monster half-Mewman Meteora (Jessica Walter) is achieved when her mother Eclipsa (Esmé Bianco) casts a spell that reduces her to a baby. Star, who had been acting queen because her mother Moon (Grey Griffin) is missing, cedes the throne to Eclipsa who is the rightful queen of Mewni, who has been imprisoned in a crystal for hundreds of years, also giving her the family wand as her rightful property. Eclipsa immediately begins work reversing many of the laws that supported the royal family's anti-monster sentiment, as Eclipsa's beloved is a monster, and her daughter a half-monster. Meanwhile, Star and Marco search for Moon based on a series of half-formed rumors about sightings of her. Eclipsa's beloved, Globgor (Jaime Camil), is imprisoned in crystal and she has not succeeded in freeing him.
Everything that the series has built up to comes to a head in this season. It still has a lot of fun and moments of levity, but the stakes are higher than ever. Again at the end of the last season the world as we know it has been upturned with the succession leaving Eclipsa in charge of the kingdom, and Star and her parents shown to be descendents of impostors to the throne. With the threat of Meteora gone, new threats arise, threats that put the very existence of Mewni in question.
I love this show so much, I highly recommend it!