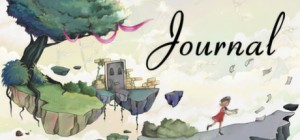 Journal is a dialog based narrative story game by Locked Door Puzzle released in 2014. The story follows a young girl who has discovered that the pages in her journal have gone blank and she sets out to try to find what happened to them. The game plays out as she talks to different characters in life, and asks them about the journal, and different interpersonal conflicts arise–her mother, her father, her classmates, teacher, priest. The game is a little bit of exploration as she walks around a larger area and finds new people to talk to with each level of the game, but mostly the game comes down to dialog choices. When her best friend accuses her of not being a good friend, does she apologize or deny it? When her teacher asks her if she cheated on a test does she own up to it or cover it up? Making the "right" choice doesn't always produce a happy outcome–as with many things in life. As the game goes on she's always kind of feeling her way around things that she doesn't really want to remember.
Emulating film in writing is an easy trap to fall into. Overly long descriptions of complex settings and impartial narration as though attempting to show what a camera would see. But to write fiction in this manner is to sell yourself short. No one can portray a story in a film-like manner as well as film itself can. I'm not saying you can't tell about the same story, the same characters, the same events. But you need to tell it differently to reach its full potential.
To me, beats serve three main purposes:
1. attribution: lets you know who is saying what.
2. characterization: actions speak louder than words, this can betray a lie, show nervous habits, convey more subtle communication between characters, any number of other things.
3. pacing. A longer beat conveys a longer moment of time between speech.