written by Laurie Tom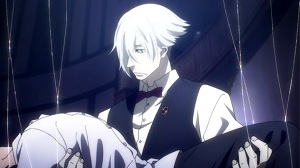 The concept of Death Parade is nothing new. Stories of people being judged after death goes back to the earliest religions. But what makes it special is watching the various souls who pass through for judgment and how the judgment process itself is potentially unfair.
Death Parade has some manic customers, but the series itself is understated, letting peoples' lives, and deaths, unfold for the audience at the same time as it does for the mysterious woman who is Decim's assistant; Decim being the arbiter who decides the fate of the people being judged.
The woman without a name has no memories and serves as the audience's surrogate because she does not know what she is doing in this purgatory world where the staff look like elevator attendants and barkeeps, and the souls of the deceased come to be judged.
All the inhabitants there are neither alive nor dead, having been created specifically for the purposes they carry out. Decim is an arbiter who works in a bar called Quindecim (Latin for "fifteen") where he periodically receives two souls that died at the same time, which means they will be judged together.
While this sometimes means they died in the same event, other times it's just coincidence and they do not know each other at all.
The memories of the dead are partially suppressed, leaving them unaware of being dead and how they died. Once in the bar, they are convinced to play a game with their freedom and their lives at stake. The game is typically competitive, designed to bring out the worst in the players as all their regrets return and they come to realize that their lives are already over.
But still, people are complicated. Death doesn't change that, and even after death there are surprises.
The first episode is a whopper of plot twists and revelations, focusing on a married couple, their history together, and how they ended up dying. But the real stinger comes in the second episode, which shows the same story from the perspective of Decim's assistant and turns everything on its head once more.
Though there is a certain episodic-ness to the story, with new characters constantly coming and going for judgment, there is an larger overarching storyline. I don't really care for the higher level scheming, because I think it raises too many questions about how the whole afterlife system works and who put it there in the first place, but I do like the friendship between Decim and his unnamed assistant.
It takes some time to grow during the early episodes, but it becomes clear that the inhuman Decim is being changed by his amnesiac companion, who clearly wasn't created in the same fashion he was. Her history and her beliefs become the emotional core around which the rest of the series revolves as she becomes increasingly disillusioned with the idea that it's possible to judge a person without having really known them.
Death Parade surprised me, largely because the woman's progression is so gradual I didn't think too much about it until the last few episodes. When I started this show, I did not think I would end up needing a tissue in the end, but I think anyone's who has experienced the loss of a loved one will be able to relate.
I highly recommend this series. It does get a little lost in the middle, but it's short and packs a powerful punch.
Number of Episodes: 12
Pluses: judgment games are interesting to watch, facial animations are top notch and really drive home the emotions spilling out of the characters
Minuses: meanders a bit in the middle, worldbuilding outside of Decim's bar isn't really that interesting and not well addressed
Death Parade is currently streaming at Funimation and Hulu and is available both subtitled and dubbed (though dub requires a Funimation subscription). Funimation has licensed this for eventual retail distribution in the US.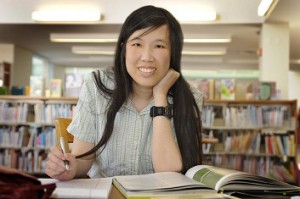 Laurie Tom is a fantasy and science fiction writer based in southern California. Since she was a kid she has considered books, video games, and anime in roughly equal portions to be her primary source of entertainment. Laurie is a previous grand prize winner of Writers of the Future and since then her work has been published in Galaxy's Edge, Strange Horizons, and Crossed Genres.