It had been just over a year since the second coming of Jesus and, like most atheists, I couldn't say it had been a particularly good year for me.
Sure, the Lord's first bit of business had included clearing up some of the more vague parts of the Bible, including some mistranslations and things his father had, in his words, "gotten wrong." That put an end to a lot of bigotry.  The lack of world hunger and the new commandments about littering were incredible, of course, more positive change than I'd hoped to see in my lifetime.
But it's just… having proof that my entire belief system (or lack thereof) was absolutely backwards, and having every holier-than-thou relative constantly sending passive-aggressive emails filled with selfies of them and His Holiness…
My fellow non-believers converted, and one even became a priest. I think I'm one of the few who refused to do so.
Oh, don't get me wrong. I believed. I'd seen too many miracles – some firsthand, like the time the East River parted to let the family of kittens cross safely. So I believed. I just didn't let it change my life.
I didn't pray, didn't give any more to charity than I normally did, and I sure didn't stop drinking (one of his newer, less popular commandments). I lived as a godless heathen, as my Auntie Ruth would say.
So imagine my surprise when the lord and savior himself knocked on my door and asked for my help. You wouldn't think he'd have to knock, what with all his magic and ability to walk through walls. But he was nothing if not courteous.
He stood on my stoop, all beard and white robe and smiles, a stained glass window come to life.
"My child," he said in a warm, booming voice. If the whole son of God thing didn't work out, he could make a killing as a game show announcer.
"It's pronounced 'Dave,'" I told him politely, averting my eyes from the angels standing on either side of him. I'd never read the Bible, but I'm pretty sure it didn't describe angels as horrifying, winged humanoids with tentacles on their faces.
"Of course. After David, the Biblical king."
"No, after my mother's brother Dave, the mattress salesman."
From the corner of my eye, I saw one of the angels snatch a pigeon off the railing and eat it.
"I think Nazareth is that way," I said, pointing.
He pointed in the other direction. "Actually, it's that way."
Well, I guess he would know.
"I come to ask your assistance," he said, clasping his hands.
I opened my mouth to make a sarcastic comment, but stopped when I saw the look of fear in his eye. What on Earth was Jesus afraid of? And what did he think I could possibly do about it?
"What is it?" I asked, nervously hoping he wanted me to come over to his place and kill a spider. As they had been mentioned in an addendum to "thou shalt not kill," maybe he couldn't bear to ask anyone else to sully their immortal soul.
Even before he spoke, I knew that couldn't be it. Jesus had probably invented the whole "catching a spider in a cup and sliding a piece of paper underneath it" trick.
"There's a reason I came back now, David." He smiled apologetically. "Dave. The world is in danger. Will you help me save it?"
I thought about it for a minute, then nodded. I rather liked the world, even if there were a lot of religious people in it.
*
The museum was only a short walk from my apartment, but it took forever because somebody had to stop every five seconds and sign autographs. I wondered if his pen ever ran out of ink, or if it worked like the loaves and fishes.
When we finally found a moment of peace – JC made a blind beggar see, and everyone left us and crowded around the guy to, I dunno, absorb the miraculous juju or something – I asked him what exactly he expected me to do.
"Despite what my more… excitable followers would have you believe," he said, spreading his hands in vague gestures as he spoke, "the Devil has not actually been corrupting the American media or making toasters explode."
"What about making politicians cheat on their wives?"
"No, not even that. Gabriel!" He snapped his fingers at one of the angels, who was holding a squirrel inches from its mouth. "What did we talk about? If you're going to come to the Earthly plane, you have to follow the rules. Do you want to go home and stay with Dad, or do you want to put down that squirrel and come with us to save the world from Satan?"
It reluctantly returned the squirrel to the tree.
"That's what I thought." He turned back to me. "No, the Devil has been imprisoned for the last two thousand years, as was I. Our destinies were entwined, which is why I let myself be crucified. If I died, so would he."
Well, that was a part of the Easter story they left out.
We came to the steps of the museum and stopped while Jesus posed for a picture with a group of tourists. The angels tried to use the camera but succeeded only in taking a series of close-ups of their own faces, and I had to step in.
"Thank you, Dave," Jesus said when the crowd had dispersed.
"Shouldn't you be the one getting thanked?"
"Probably, but there's no one here but an atheist, so I can wait until someone better comes along." He smiled and elbowed me in the ribs. Of course he had to be funny. "Anyway." He pointed to the museum. "Around a year ago, archeologists found something mankind was never meant to find. A jar that was his prison. And they opened it. I need you to close it."
I stared at him blankly. So it wasn't "come over and kill this spider," but a variant on "hey, could you help me open these pickles?" He was Jesus. Couldn't he handle closing a jar on his own?
"Not this jar."
My heart skipped a beat.
"Oh, didn't I mention that I can read minds?" He grinned, like this was all some enormous joke on my behalf. "I'll overlook the scandalous thoughts about that blonde tourist a couple blocks back if you'll start thinking of me as He with a capital H. It's kind of polite."
Kind of presumptuous, I thought. Very loudly, so he could definitely hear it.
This was the part of religion I hated most. I could get behind the idea of some conscious force controlling the universe, and accepted that, if an afterlife existed, that force probably wouldn't let you in if you killed people or stole from little old ladies.
But all the stupid rules. Don't eat this kind of meat, even though it's not really that different from this other meat. Don't covet your neighbor's wife or oxen, even though sitting around and thinking "gee, my neighbor sure has a nice wife and/or oxen" is literally the least harmful way to spend the afternoon. Always be extremely thankful to the magical sky dude who gives out cancer like the dentist gives out toothbrushes.
"I don't claim it's a perfect system," he said quietly. "Far from it, even with the alterations to the Brand New Testament. But the worshipping of us – and all the various ways to do it – was invented by humans, and despite what my father says, you are some of the most flawed things He ever made. We'd love it if you followed all the arbitrary rules – although they really aren't arbitrary and you'll see why when you're at the Gates – but we know you aren't groundhogs and we can't expect you to be."
I must have drifted off somewhere. "I'm sorry, groundhogs?"
"The most perfectly devout creature on Earth," Jesus said.
Boy, did I feel like a fool for not knowing that.
He looked at me with the kindest eyes I have ever seen. They physically radiated light and warmth, and a feeling of wellbeing and acceptance filled my chest.
"We don't care how you worship us, or even if you believe in us. We know this is kind of a one-sided relationship. All we want is a little respect. And for you to help me save the souls of the entire human race."
It was a moving speech that had me ready to run up those steps and take Satan head-on. And then he had to go and ruin it.
"Trust me, I'd rather have a groundhog here, but they've all been raptured. But I know you can do this. I believe in you, Dave."
Oh yay. Jesus believed in me. And considered me an adequate replacement for a fat rodent that's only useful as speedbumps and on fake weather holidays. Lucky me.
I almost walked away. I almost let the world fall into the clutches of evil incarnate. But I didn't.
"I'm not doing this for you," I informed Jesus as we walked up the steps to the museum. "I'm doing it for the world. It's my favorite planet now that Pluto's gone."
*
Our breaths and footsteps echoed through the expansive halls of the museum, which had been evacuated in anticipation of our visit. I was hesitant to ask why he thought I, surely the least groundhog of all people, could possibly help him defeat the devil. I figured it probably involved something like the face melting at the end of Raiders, and he just didn't want to waste one of the good people.
"We aren't defeating him," Jesus said quietly, but even in a whisper his voice reverberated like thunder. "And you are one of the good people. Goodness has very little to do with piety, my ch — Dave."
He turned sharply to look at the two angels, who were lagging behind to lick display cases containing taxidermied birds. Their wings slumped under the power of his gaze and they caught up to us.
"Between you and me," he confided as we rounded a corner and entered the hall of antiquities, "if anyone is going to get their faces melted, I'm volunteering those two knuckleheads. Dad thinks they add a certain majesty to my miracles, but most of my miracles lately have been turning wine into water to combat drought and making pandas go forth and multiply. Which is gross, by the way. Ever seen a newborn panda?"
I shook my head. He had to know I hadn't, but it was nice of him to ask.
"Imagine the ugliest rat you've ever seen, then make it pink and hairless and only able to move by random wobbling movements. The point is, the angels do nothing but make people nervous."
He flashed me a smile straight out of a toothpaste commercial, complete with little sparkly bits.
"How do you do that? That smile?"
He shrugged. "Same scientific principle used to make halos and sunbeams."
Oh. Obviously.
We came to a display bathed in spotlights and cordoned off with red velvet ropes. On a low table in the center sat an earthen jar, cracked and weathered by the sands of time but remarkably intact. Its lid sat beside it, and large signs posted everywhere told the story of its discovery, calling it the Holy Grail.
"It's the real one," Jesus said, preempting my question as the temperature of the air dropped noticeably. "The Last Supper was really more of an enchantment ritual we kind of stole from the story of Pandora, taking an ordinary jar and making capable of holding the incarnation of evil. And it worked, until some fool had to go and open it."
The lights in the rest of the museum suddenly cut out, leaving us and the jar in a bright pool amid an artificial night. I peered nervously into the thick and impenetrable wall of darkness, hugging myself to relax the goosebumps.
"Is he… here?"
"He's everywhere, silent and invisible. Like carbon monoxide. You don't know he's there until he has you in his grasp."
The possessions of the early days came to mind. Just before the second coming, the news was full of images, horrible images of people in the clutches of some kind of insanity. Flailing and contorting, attacking one another and speaking in tongues. It stopped as soon as it had started, and once the Lord hath returneth'ed, no one really talked about the possessions anymore.
"It started the day the jar was opened. My return quelled him for a time, but tomorrow the Grail goes public and every set of pious eyes upon it give him power."
"And my eyes are godless heathen eyes." I nodded in understanding and slowly stepped up to the display.
The ropes fell away as I approached, parting like the East River, and my hands trembled as I reached for the jar.
Its ancient clay felt warm to the touch. Hot, even. I held it firmly in one hand and took the lid in the other, making a point not to look inside just in case it would melt my face.
I heard footsteps and a soft cackling.
"Not funny, Jesus."
"Not me, Dave."
He sounded scared.
A frantic squawking and the rustle of feathers made me turn, just in time to witness the blackest shadow I'd ever seen taking the angels in its grasp.
In my surprise, the jar slipped from my hand.
I watched it tumble to the ground in excruciating slow motion, too paralyzed to do anything but pray it wouldn't break.
It hit my shoe, bounced slightly, and skittered onto the floor with a scraping sound. But it remained in one piece.
I dove for it, and met the desperate eyes of the shadow, which released the angels unharmed and swooped towards me. I clapped the lid onto the jar and held it to my chest as the icy tendrils of the devil brushed across me.
The jar grew heavier as the lights came on and the temperature returned to normal, until I could no longer bear its weight and had to set it on the floor. The tiles began to crack.
I looked up to see Jesus smiling at me. And not a good smile, but a smug one.
"What?"
"You prayed."
Crap. I did, didn't I?
"Dave the atheist prayed."
I scrambled to my feet. "Did not."
"Don't lie to me," he teased, picking up the jar without effort. "That's like the worst sin ever. Straight to Hell, no stopover in Purgatory."
I stared at him for a long time as the angels groomed each other with their tentacles. It wasn't like it was a real prayer, just kind of a way to say I wished really hard that the jar wouldn't break. Like when you're waiting for a check and you say, "Please let it come today." Not a religious prayer. Not really.
"Fine," I said as we walked out of the museum. "But I never mentioned you or your dad by name. For all you know, I was praying to the Mesoamerican serpent god Quetzalcoatl."
"Which would be a waste of time, since he never checks his messages."
I couldn't tell if He was kidding.
"So am I still going straight to Hell?" I asked out of curiosity. "I think my uncle Randall is probably there, and if I have to go, I was wondering if I could get an apartment near him."
"I guess that depends on how you live the rest of your life. Rescue some dogs, donate to charity, and I'll see what I can do. But do me a favor and don't pray anymore."
"Why?"
He smiled, the big one with all the sparkles. "Because there's rumors that the four horsemen are coming next year, and I just might need an atheist again." He pointed behind me. "Hey, isn't that the pretty blonde tourist?"
It wasn't. When I turned back, He and the jar were gone. The words "Take care of the knuckleheads for me" had been etched in the sidewalk.
The angels wagged their tentacles at me. One of them offered me a pigeon.
---
© 2018 by Jennifer Lee Rossman
Author's Note: This story came about when I wondered how people would react to incontrovertible proof that their beliefs are wrong. Would they believe something else, or stick to their old ways? Is there a middle ground? Believing in a god but choosing not to worship him? And what if that god was perfectly fine with you choosing not to worship him?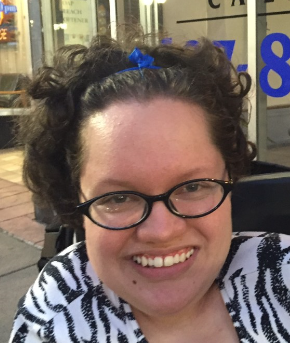 Jennifer Lee Rossman is a science fiction geek from Oneonta, New York, who cross stitches, watches Doctor Who, and threatens to run over people with her wheelchair. Her work has been featured in several anthologies and her novella Anachronism is now available from Kristell Ink, an imprint of Grimbold Books. Her debut novel, Jack Jetstark's Intergalactic Freakshow, will be published by World Weaver Press in 2019. You can find her blog at http://jenniferleerossman.blogspot.com/ and Twitter at https://twitter.com/JenLRossman

---
If you enjoyed the story you might also want to visit our Support Page, or read the other story offerings.