Content note (click for details)

Mention of child abuse
Grandma always said I was born drowning. She pulled me on out, rapped my backside, and a huge gush of water came whooshing out my nose and mouth. Made a great, big ol' puddle on the floor, enough that Grandma nearly dropped me when she jumped back. Mama and Daddy thought I was dead 'til I started wailing. Filled up my mama's kitchen with noise.
As soon as the cord was cut, Mama grabbed me close and never let me go near the water. Yeah, I still took baths and had to wash dishes and all that, but that lil' creek that ran behind near everybody's house was right out. Even on days like today, when everybody was gathered where the creek swelled to join the river, she kept me firmly by her side.
Pastor Atticus stood out in that cold, dark swirling water in the deep blue robe Miss Jessie Mae had made for him last spring. I felt bad for him. The world hadn't got the message that it was time for spring and that water had to be as cold as death's pinky finger. I looked over to Malachai and he stood in his white robe looking at the creek. His whole face was twisted like he wanted to bolt. I felt bad for him too. Baptisms always looked like Pastor Atticus was trying to drown the sin out of you before he let you back up. I wasn't sure I wanted any part of that.
Pastor raised his arms and everybody started to sing, from the highest voices to the lowest. The sound made little fingers run down my spine. It was like they were calling on the Holy Spirit and it was actually coming. I peered around Mama and saw Malachai's mama singing, tears just rolling down her face. His daddy stood, his big crooked fingered hand on Malachai's shoulder. He wasn't singing and we were all better for it. They both led Malachai forward and I saw him flinch when he stepped in the water.
I tried to take a step forward to get a better look but Mama's hand squeezed down on my wrist. I looked to Daddy on my other side, but he gave a little shake of his head. He always told me it was best to let Mama have her way in this. I just hung my head. I understood why she was afraid. She'd nearly drowned in the creek a little before she found out she was carrying me. Then, when I was born, I was full of water. I could truly understand why she was afraid. It was still a silly fear though.
Malachai waded out to where Pastor stood. I stifled a giggle when I noticed Malachai's teeth chattering. Pastor Atticus recited the words I'd heard at every baptism I'd seen in all my fourteen years. It was a sacred act. One shouldn't take it lightly. After today, Malachai's soul would be saved from damnation. I had to wonder if Mama would ever want me to get baptized. I was curious how it would feel to go under. That creek would be the deepest water I'd ever been in. I couldn't swim a lick but it only came up to Pastor's waist at its deepest. It would come to my shoulders at best. I'd be safe.
I stood on my toes to see better as Pastor clamped his thick fingers over Malachai's nose and dipped him back so hard I thought he was really trying to kill him. The waters whirled around and down. It was the same kind of sound of when me and the other children would throw the biggest rocks we could find into the creek. I tried to look through the surface to see the panic I knew was on Malachai's face when I saw something looking back at me.
There were eyes in the water, a bunch of pairs of eyes, looking at me. I leaned as far forward as Mama would let me and saw the faces attached to all those eyes. They looked like us in one way, then like fish in another. Where our skin was brown, theirs was a beautiful gray-blue, the color Daddy said the ocean was. They didn't have a scrap of hair on their heads, not even eyebrows.
One swam closer to the surface, looking dead at me. He smiled at me and I wanted to smile back but my good sense stopped that. I looked around because surely somebody else had to see this, but everyone had their eyes fixed on Pastor. I looked back to the fish man smiling at me and I felt my heart start to race. There was something familiar about him, something about his eyes. Something about the shape of them.
I patted Mama's arm. "Mama," I whispered and she looked at me with the wrath of God cuz I was speaking right now. "Mama, I see… people in the water."
I expected her to use that tone that was worse than a beating but she just stood like a statue for a moment, eyes big as the moon. She turned, caught me by the elbow, and marched us from that creek. Daddy struggled to catch up with us. She didn't say nothing 'til we reached the road.
"I never wanna hear you say a word about that again, you hear me, Cassie? Not another word in the rest of your natural life."
"Yes, ma'am," I managed to get out while I tried to keep up with her walk. Barely a word was spoken the rest of the day.
***
Mama had me on the second pew at church next Sunday, right behind the mother of the church, where I was sure to receive the word directly to my soul. The fish people hadn't left the front of my mind all week. The way they looked so much like people I knew or, better yet, like people I should know. There was something warm in that fish man's smile, something that drew me in like a cat to cream. And his eyes, I couldn't get the shape of his eyes out of my head. It vexed me, as Daddy would say.
A sharp pop to my thigh brought my thoughts back to the works of the Good Lord, my eyes back up to Pastor and the fiery sermon he was giving. I'd been paying enough attention to know we were going over the story of the Israelites marching through the Red Sea. The part after they complained about being freed but before they started complaining about having to walk so far. I always wondered what those people saw as they strolled between two great walls of water. Did they see animals? Just as Pastor really got fired up and Sister Washington caught the Holy Spirit I thought of the fish people again.
I could just imagine them swimming through the waters of the Red Sea, swimming all around the other animals in the sea. I could see them showing the chosen people of God the way, blue-gray hands beckoning them on. That seemed like a fine place to be for me, in the calm of the sea with nothing but fish and turtles and whales to worry about. It made me think of what water that sat exactly where God put it felt like. Was it slimy like the frogs that sometimes hopped up onto the back porch? Or was it the same as the water out of the pump? Did the fish people move through it like we moved through the world? And my mind settled on that fish man who smiled at me again and his eyes. His familiar eyes.
The choir starting up broke my thoughts and I saw Pastor coming down out the pulpit to beckon people to get they souls saved. I had never thought of making that trip up front before, all eyes in the church on me. I glanced at Mama who had her eyes closed, caught up in the choir's singing. If I didn't do it now, I wouldn't do it ever.
Right before the second verse started, I stood myself up and shimmied down that pew before Mama knew what was happening. People started cheering and praising as I walked up to Pastor Atticus and told him I wanted to be baptized. I heard Mama's wail behind me. Folks probably thought she just caught the spirit.
Pastor Atticus grinned that wide grin of his. "Are you sure you want to give your life to the Master?" he asked, the choir humming behind him.
"Yes, sir," I said back. My mind turned back to the fish man's eyes. "I'm ready to go in the water."
***
The weather finally decided to turn warm that next Sunday. My robe was set out and pressed on my bed, ready to come with me to church. Daddy had eaten early, pressing a big, proud kiss on my forehead before he set out to the church house to help open up. That left Mama and me at the kitchen table and I wasn't sure I much cared for that. She'd been near silent towards me all week, looking at me near tears one moment, angry as kicked up hornets the next. I was putting some more butter in my grits when she threw her glass across the room. Shards flew everywhere. I sat stock-still, watching her hang her head in her hands, not knowing if there was going to be another explosion.
"How could you do this to me?" she asked me, her voice all raggedy.
"Mama, what?"
She slammed her fist down so hard on the table I thought she might break it. "You hear me, gal. How could you do this to me? I done kept you away from that creek for a reason and now you want to go running off to half drown yourself in it." Mama fixed me with a stare that jabbed me to my soul. "I hope—no—I pray you get exactly what you're looking for."
We were silent for another while. I didn't know what to say to her. I took a deep breath, praying she wouldn't come across that table at me. "Mama, why did that fish man's eyes seem so familiar to me?"
Mama shot up from her seat. "I told you not another word about them," she screamed.
I ran to my room, closing the door behind me. I shoved my tall dresser in front of it just in time. The door bucked and rattled as Mama tried to get in. "Cassie Lee, you open this door right now! You ain't too old for me to lay hands on you."
Her pushing at the door bumped the dresser enough to knock my only picture to the floor. I picked up the little frame of a drawing my Daddy made of me when I was about ten. I frowned at the glass, cracked like a star over my chubby face. I peered harder, looking at the eyes. The shape of my eyes.
I threw on my church outfit and grabbed up my robe. Mama had stopped trying the door by the time I'd shimmied out of my window. I didn't know if she was going to make it to church and I didn't much care by then. I ran down the road, my best heeled boots covered in dust by the time I arrived. Pastor's Wife had me sit on the first pew beside her so I didn't have to see if my mama came tearing in later. I was thankful. I didn't see her as we left the church house and took that trip out back to head down to the creek.
There was a warm breeze in the air as Pastor waded his way into the waters. After he made his solemn speech about the purpose of our being here, Mother Fields started singing, her strong, deep voice rising to the heavens.
"Take me to the water, take me to the water…."
I looked over to Daddy who was trying to hold back tears. I studied his face, looking hard for some part of myself in his nose, his mouth, his eyes. He smiled at me and I felt tears in my eyes start up.
One of the choir members helped me take off my shoes and put a hand to my back. Pastor was looking at me expectantly. I took a deep breath and dipped my right foot in the water. It felt like a hug. I took a step forward, then another one.
It was cool, swirling around my ankles like somebody was rubbing them. My eyes couldn't hold back the tears and big fat ones came pouring down my cheeks as I walked out to Pastor Atticus. He took my free hand as the other one was busy wiping away tears. Whatever words he was saying might as well have been for the birds, because I couldn't hear them. He clamped his fingers over my nose and I took a deep breath. I heard my mother screaming my name just before he plunged me under the waters.
The creek closed in around me, like warm sheets on a winter's night. It felt like any old water and something else entirely. It was like I'd gone somewhere else. Then I saw the eyes again. There were dozens of them, the fish people, swimming up, looking like folks I should know. I heard their voices, their language, and while I didn't understand it, it was like honey to my ears. Then I turned my head and I saw the one that had smiled at me. All my wondering shed off me like old skin. I knew him as much as I knew myself. I floated before him, his nose like mine, his eyes like mine, and mine like his.
Then I smiled.
---
© 2022 by Sarah Macklin
2300 words
Author's Note: This story was inspired by my father's tales of getting baptised in the nearest creeks. Looking into those waters always made me wonder what was beneath them.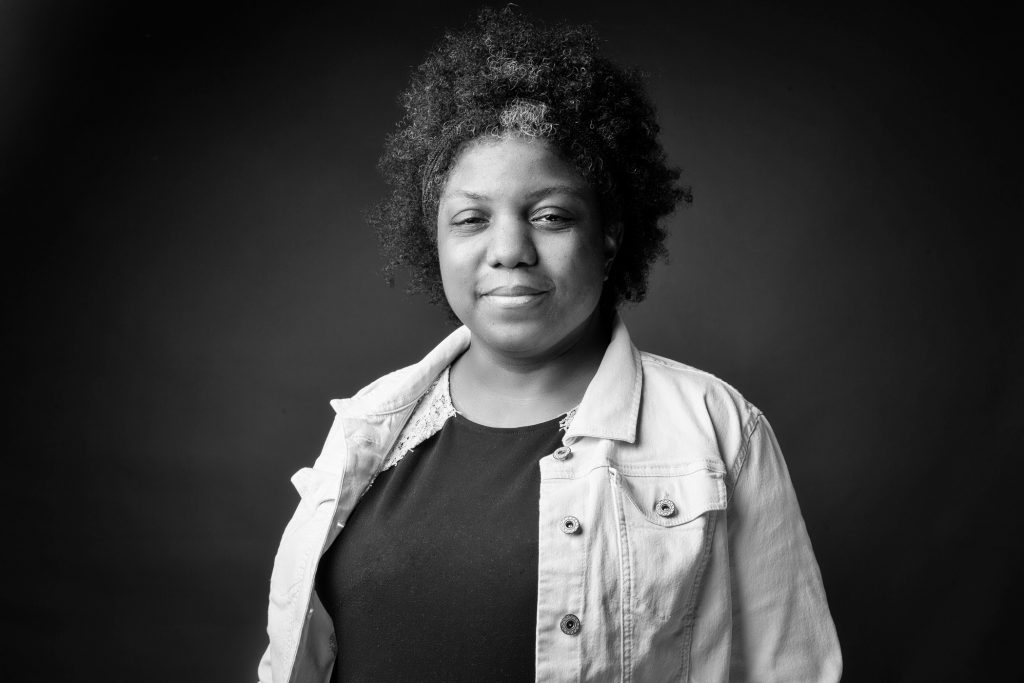 Sarah A. Macklin is the author of The Royal Heretic and a number of fantasy short stories. When not creating new worlds, you can find her drawing comics or finishing her latest piece of clothing. She lives in South Carolina with her husband and two daughters.
---
If you enjoyed the story you might also want to visit our Support Page, or read the other story offerings.