When she heard the call to prayer Sister Judith knew something was wrong, even if she couldn't immediately identify what was amiss. As she was wont to do when she was anxious, she tugged at the rosary around her neck, and it was as she did this that her mind put two and two together.
Around her on the Deck Eleven concourse the mellifluous call to prayer was echoing from the Voxes hung around the neck of every Brother and Sister, Novice and Postulant. It was not, however, coming from the Vox hung from the rosary around her neck.
She examined the device, elegantly curved in the shape of a figure eight, symbol of her faith. None of the lights on the upper portion were lit, not even the one indicative of a fault.
She glanced nervously around her, at her fellow adherents of the Greater Journey hurrying this way and that, heading for their preferred chapel. Brothers and Sisters chattered away, heads held high. The Novices remained in their groups of six, heads always bowed, chanting the triptych under their breath as they were required to do when they were called to prayer.
"Dedication- Deceleration- Destination."
"Dedication- Deceleration- Destination."
"Dedication- Deceleration- Destination."
And finally the Postulants, clambering up from their knees, bending their legs and rubbing at their kneecaps before they headed off after the others. Heads bowed like the Novices, but not in groups, not chanting, not even talking, obedient to their vows of solitude and silence.
Sister Judith felt suddenly out of place. If she just continued to stand there eventually people would notice, not only those of the Faith, but the secularum as well: the engineers and teachers, the labourers and schoolchildren. She felt suddenly like a criminal, as if she'd done something wrong, been singled out for some divine punishment.
She should act as if she had heard the call, or else find a touchscreen and advise the communetor that her Vox was broken. Instead she just stood there, seized by a rare moment of indecision. It was not a feeling she was used to.
"Don't fret, Sister Judith, nothing is wrong."
She turned and bowed her head. "Maven Angelica. "
"Oh lift your head, girl. It's been ten years since you were a Novice."
Sister Judith smiled as she complied; Maven Angelica's tone had been playful. Though she'd rarely spoken with the head of the Faith, Judith had heard her speak many times, and knew from these occurrences, and the comments of others, that she was not, nor ever had been, a strict disciplinarian. Not all Mavens had been so accommodating.
Despite the fact that she was a familiar figure around the Ark, it always surprised her to see Maven Angelica wearing the familiar cerulean habit of their order, but no wimple, her grey hair instead hung freely in several haphazard plaits. Sister Judith had to resist the urge to adjust her own wimple, suddenly paranoid that a scrap of blonde hair might be poking free.
No one knew exactly how old Maven Angelica was, but she had been Maven for as long as Sister Judith could remember; her first memory of this serene woman was as clear as her memory of yesterday. She'd been four, which meant Maven Angelica had held office for at least thirty years.
She was a striking woman despite her age, which had crooked her shoulders and necessitated a small metal cane, and despite the recent stroke that had caused the left side of her face to fall ever so slightly and was responsible for a vague slur to her voice. Her skin was clear of lines, her hazel eyes still bright. In her heart Sister Judith thought Maven Angelica was probably more beautiful in her dotage than she'd been in her prime.
"I'm sorry, Maven."
Maven Angelica threw a dismissive hand in the air, her other remained wedded to her cane. "I'm too old for apologies. You'll realise, as you age, that there are many things you don't have the time for any more." She smiled. "And talking of time, you and I have an appointment."
"We do?"
"Yes. That's why I'm here, and that is why your Vox did not issue you with the Call to Prayer. You have a more important matter to attend to, one that will entail us taking a trip to the Cartography Chapel."
Sister Judith's eyes widened. The Cartography Chapel was a place of great reverence, one that even a Maven only entered rarely.
She had many questions, but to ask might seem impertinent, so she sidestepped the sanctified nature of the Chapel, and instead focused on more rational concerns. "I should pack, such a pilgrimage will take several days." Which was putting it mildly, to walk to the bow of the ship from their current position in the port transept would take her at least two days at a brisk pace, and she doubted Maven Angelica would be able to walk as quickly, so it might take three or four. They would need to arrange lodgings on the way and…
"That won't be necessary, we'll take the monorail."
Sister Judith was shocked again. For the Adherents of the Greater Journey, faith was about struggle, about not taking the easier path. Unless they were aged, or otherwise infirm, those of the Faith were expected to walk everywhere, to clamber between decks along rickety ladders rather than taking the elevators, to spend days on journeys that would take the secularum mere minutes. Sister Judith hadn't ridden the monorail since childhood.
Now she knew she must say something, even if it came out as impertinent. "Maven. After your years of selfless service to the Greater Journey you have earned the right to forgo the basic tenet of our Faith, but I am not nearly as worthy. I at least should walk."
For a moment Maven Angelica stared at her, her face an unemotional mask, and then the old woman laughed. "Oh, you are a serious one, aren't you? That's good. The Faith needs strong souls, minds that will not bend… but sometimes faith must be flexible. How else to survive the strongest storms, eh?"
Sister Judith wasn't sure she understood, but she nodded anyway. She had challenged the Maven's request and her challenge had been discounted. She could only hope that the grand old woman had the best interests of the Greater Journey at heart.
There were several dozen people waiting at the monorail station, but as they saw the Maven approach they all stepped aside: young or old, man or woman, technician or artisan. Sister Judith felt like a fraud and she kept her gaze downcast, even as Maven Angelica conversed with people as they passed.
She glanced up only once, to find a small boy staring at her. He had tousled black hair and wore a vermillion cloak that was well-made enough to suggest his parents were high-ranking, or else were garmenters and had made it themselves. She smiled at him. He blushed and her smile broadened.
Despite the amusing interlude with the child, she was grateful when they were safely within the carriage. There was room for six, but no one would have dreamed of joining them.
They sat facing one another. The Maven looked at Sister Judith, but the younger woman found herself conflicted as the carriage began to move off.
"You can look. I realise this is a novelty for you."
Sister Judith nodded, then—feeling slightly guilty—she glanced out of the window.
Her timing had been impeccable, because the carriage exited the tunnel a moment later, into the cavernous expanse of Plantation Two. She had to resist the urge to gasp, so long had it been since she'd seen this view.
Plantation Two was located on Deck Seven. Technically the rail they rode along counted as Deck Eleven and glancing up she saw bright sun-lights affixed to the ceiling roughly two decks above them.
She looked down once more, at the narrow strips of green and brown where men and women toiled, cultivating food to feed the Flock. The three plantations were located far apart, providing redundancy in case of a disaster.
And then the world below was gone as they were swallowed by a tunnel once more. Maven Angelica had obviously been waiting for this. "Your faith is very strong isn't it?"
"I…I like to think so."
The Maven nodded. "You're being modest. You scrubbed your name from the Troth List before puberty, turning your back on even the possibility of pollination. Instead from a young age you pledged yourself to the Greater Journey. You were a Postulant at fourteen, one of the youngest ever." She smiled. "I was eighteen when I took the vow."
"It's not something I can explain, but as far back as I remember I knew that I wanted to dedicate myself to the Greater Journey. I remember Brothers and Sisters visiting school. They seemed so wise, so serene. I envied them that. We watched recordings of Maven Charlz. He was very inspiring."
"He was a fine mentor, he taught me so much."
"He was a great Maven…" She paused. "Of course, so are you."
Maven Angelica smiled. "The Greater Journey is beyond ego, Sister Judith. You'll realise that when you take my place."
"Me? But…"
"But nothing. I have watched you for a long time, spoken with those of the secularum as well as those of the Faith. Academician Singer says you have a sharp intellect, that if you had not taken the vows you would have made a fine engineer, you have that clarity of thought, an utterly logical mind. Indeed," she grinned, "I have heard that your quarters are so neat and tidy they put all your fellows to shame."
"Order is preferable to chaos."
"So said Maven Josept almost five generations ago."
Sister Judith nodded. "After the Mutiny." She took a calming breath. "Order is preferable to chaos. Love is preferable to lust. Faith is preferable to self. As a shark must swim to live, so we must journey to survive, a creature with many hearts but one purpose." She smiled as she finished the recitation.
"You know the speech well."
"I admire him. He was Maven in troubling times."
"Indeed, though one hopes a Maven is never again compelled to take such action."
"The sacrifice of the fifteen?"
The Maven nodded.
Light flared. Instinctively Sister Judith looked away as the carriage exited the tunnel and Plantation One was revealed. She stared down, shielding her gaze from the sun-lights above as she focused on a circle of figures. She couldn't be sure, but she imagined there was a grave at the centre of the group, one of the Flock returning to the soil, even as their soul was likely already going through the recyclers, being cleansed of sin in preparation for a new life come the next pollination.
"Dedication- Deceleration- Destination," she whispered.
* * *
At the bridge terminus there were more curious looks from those waiting for the monorail, but no one said a word.
Sister Judith was unused to being stared at. Suddenly finding herself the focus of attention was unsettling, but if she was to be the next Maven—what a ridiculous thought it still seemed—she would need to get used to this.
Entering the bridge calmed her. Despite its size, despite the thousand twinkling lights and the cacophony of beeps and chatter, it was a familiar place. She occasionally helped to monitor the antigravity systems. She recognised people, and whilst the fact she was with the Maven drew attention, no one knew she hadn't walked here.
"Maven, good to see you," said Captain Pryce turning from his command dais. He gave a tiny bow before extending his right hand. He was wafer thin, and many of the secularum joked that one day he'd slip between the grills of an air vent and be lost forever.
They only joked when he wasn't around however, for his temper was ferocious.
"Oliver." The Maven took the proffered hand. "I believe you know Sister Judith."
The Captain smiled at her, it was a smile of familiarity, yet something more as well, as if it wasn't just that he recognised her from her tithed service, but was also aware of some greater secret regarding her. Did he know she was to become Maven?
"Can I help you?"
"It's probably nothing, Oliver, summoned to the Chapel by high and mighty circuit boards." He laughed at that. "We'll leave you to your work."
Sister Judith stumbled after her Maven, her initial feelings of familiarity gone now as they stepped around the command dais.
The bridge was elliptical in shape, with a mezzanine level circling above where more secularum worked. There were empty stations, where those of the Faith had taken their leave to pray, but there were still several dozen sets of eyes within the room, and Sister Judith felt them all on her as they approached the hallowed door at the head of the bridge.
The door was unremarkable. Still Sister Judith felt her legs weaken as they drew near, and when the Maven dropped to her knees and bowed her head she gratefully followed suit.
They chanted the triptych three times, and then the Maven stood and approached the door. She placed her palm flat against the wall beside the doorway. A moment later the door spun sideways into the wall, revealing darkness within. Without hesitation she strode inside. Sister Judith followed, feeling as if the stares of the crew were pushing her on.
Darkness swallowed her, and she felt an unaccustomed emotion as the light behind vanished with the closing door. Fear. Despite the vastness of the Ark there were precious few nooks and crannies that she had never visited, but the Cartography Chapel was such a place, and the notion of unfamiliarity, even when it was holy, terrified her.
Lights flared.
"A little underwhelming, isn't it?"
"Not at all," she answered quickly, though in truth it was. In her imagination the Cartography Chapel was a lavish cathedral twice the size of the bridge. The reality was a room barely five metres square, the walls bare metal. No furniture.
"It's all right, Sister Judith; sanctity does not require scale, or majesty. Now then…" Maven Angelica cleared her throat. "Computer, please confirm identity."
Sister Judith frowned. She was surprised. It wasn't like the word "computer" was forbidden, but it was terribly old-fashioned.
"Biometric sensors confirm identity of supplicants as Maven Angelica and Maven-elect Judith." She was again disappointed. She had expected a smooth, glorious voice, but the rasping whisper that echoed forth wasn't even as clear as the communetor's voice.
"Wait, it knows I'm Maven-elect?"
"It does." Maven Angelica smiled at her. "Succession of the Faith is not a matter to be taken lightly. Every Maven identifies potential successors from the moment of their accession. The list evolves over time of course—you were only a baby when I took office, after all—but the communetor knows them all. If something happened to a Maven the communetor would ensure succession."
Sister Judith was astounded. Half an hour ago she'd been ordinary. Now she stood in the Cartography Chapel. Now she was Maven-elect, and beyond this she had been Maven-elect for some time. Her head was spinning, and it must have shown on her face.
"I'm sorry, this should have been handled better, but I wasn't expecting this." She tilted her Vox slightly. Sister Judith could see an amber light she'd never seen lit on anyone's Vox before. "Journey Control were careful to ensure we did not know when our voyage would end, so that each generation would have hope. It would have been vanity to believe Deceleration and Destination would arrive during my tenure, but I shouldn't have ignored the possibility."
Sister Judith felt her legs weaken once more. "Deceleration…Destination…" her mouth was suddenly, achingly dry.
Maven Angelica was beaming. "Indeed. That our faith, as laid down by the tenets of Journey Control, should bear fruit in our lifetime. Oh I feel giddy." She turned. "Computer, I received a destination notification, please confirm specifics."
"Arrival at final waypoint has been achieved. A verbal order is required to begin deceleration into destination orbit." The words were so dry, so banal, yet they made Sister Judith tremble.
"Computer, provide forward visual."
The far wall seemed to vanish, and Sister Judith gasped as she beheld a dark void lit by myriad stars. "Do you understand what you are seeing?" asked the Maven.
"This is the view ahead, but because of our speed some of those stars are actually behind us. That is the miracle of aberration."
"We are travelling at half the speed of light. If we were to go closer to light speed, those stars, every star, would appear in a cluster in front of us. Truly a miracle. One of those stars is Destination. And we are almost there." She cleared her throat again. "Computer, once the order to decelerate is given what is the timescale for arrival?"
"Deceleration to orbit will take Ark Three approximately fifty days."
"Fifty days," said the Maven with reverence. "Fifty days until we reach Destination…"
Sister Judith's eyes widened as she struggled to take this in. Deceleration and Destination were tenets of the faith, yes. But in truth, much like the Maven, she hadn't expected to actually live to see them. And Ark Three? That implied two others at least. Had the Faith stayed true aboard those other Arks, or had heresy taken hold?
"I wonder what Destination will be like?"
Sister Judith wondered too. She had studied the memory files of Earth: it had seemed chaotic, undisciplined, the environment not something that could be easily controlled like the Ark's. Pollination would run rampant, the Flock would spread across this new world within a handful of generations. They would form tribes, and eventually they would form nations. Would those nations battle over resources as those on Earth had?
The Maven took a deep breath, straightened her back. "Computer, this is a verbal order to…" The command was cut off as Sister Judith took hold of the Maven's rosary and pulled it tight against her trachea. The old woman made a gurgling sound and her hands immediately went to her throat to try and pull the rosary from where it was choking her. It was a logical instinct, but also flawed, because it meant she took her hand from her cane, and as she did her legs gave out and she fell, her own momentum hastening her strangulation.
Sister Judith followed her down, dropping painfully to her knees. She held tight to the rosary and with each passing second it got easier, despite the Maven's struggles. As the Maven died Sister Judith repeated the triptych over and over again with tears in her eyes, trying to soothe the old woman into the next world, consoling herself that her soul would be recycled.
And then it was over. Sister Judith released the rosary and shuffled back from the body, clasping a hand to her mouth as she sobbed. What have I done?
Of course what she had done was put the Greater Journey first, put it above even the Maven's life. Deceleration and Destination might be the gleaming Eden at the end of the Greater Journey, but she could not shake the feeling that they might also prove their undoing.
"As a shark must swim to live, so we must journey to survive, a creature with many hearts, but one purpose," she quoted to herself.
Life aboard the Ark was self-contained, ordered, safe. Now she realised that Deceleration and Destination were a test, a test of faith. They were temptations away from order. Which meant the true heart of the triptych was Determination. Determination to do what was best for the Flock, and what was best was that the journey continued.
She stood. "Commu…computer?"
"Yes, Maven Judith?"
She shivered at that. "What happens if the order to decelerate is not given?"
"If a verbal order is not received within nineteen minutes navigational systems will realign course to the next habitable destination."
"What is the travel time to that destination?"
"Ninety four years."
Her tears had stopped. She would wait here for the next nineteen minutes. After that she would leave the chapel and explain that the communetor had advised that Destination was still decades away, and that the shock had been too much for Maven Angelica. She was old, so it would be believed, and it was forbidden to perform an autopsy upon a member of the Faith. After that she would insist on a pilgrimage, as penance for not being able to save Maven Angelica. She would walk to the stern basilica, to the port and starboard transepts. She would walk every corridor, and speak to every member of the Flock. She would hold true to her belief that she had done the right thing.
She only hoped that, in ninety four years' time, her successor would do the same.
---
© 2017 by Paul Starkey
Author's Note: I'm not sure where the initial germ of this idea came from, but the notion of a religious order existing on a generational starship quickly took hold and once I began thinking about the Adherents of the Greater Journey ideas flowed thick and fast about just what form this religion might take, and about what its adherents might be like. Much like religions existing on Earth today I liked the idea that different people would see different things in the tenets of the faith. I still can't decide whether this was a religion that evolved organically aboard ship, or whether it was something cynically placed on board by Journey Control. As a writer it's nice not to know all the answers, even when you've created the world you're writing in!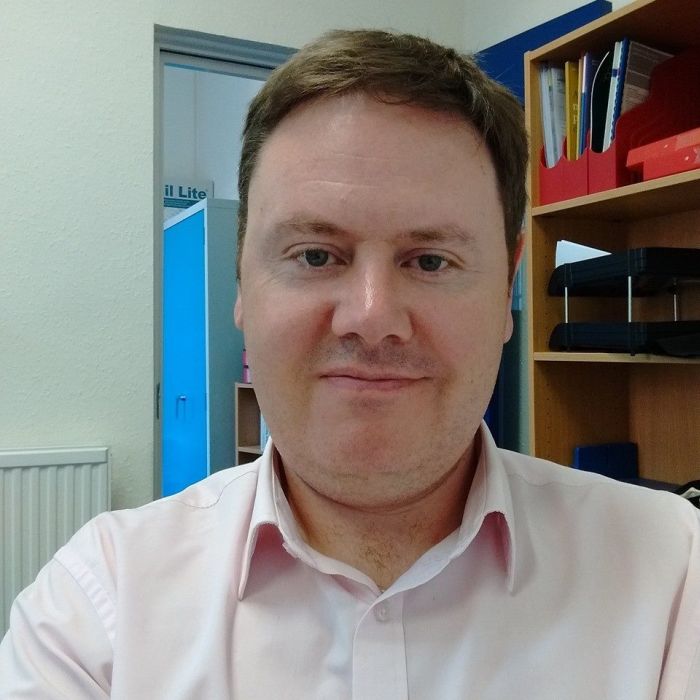 Paul Starkey lives in Nottingham, England, but has no information regarding the whereabouts of Robin Hood. He's wanted to be a writer since he was ten years old, but didn't really start writing seriously until he hit his thirties. Since then he's been making up for lost time. He's had stories published in the UK, USA and Australia, including being published by Ticonderoga publications, Alchemy Press, Fox Spirit and the British Fantasy Society journal. In November 2015 his novella 'The Lazarus Conundrum' (a zombie story with a twist) was published by Abaddon Books. He's also self-published several novels. 
---
If you enjoyed the story you might also want to visit our Support Page, or read the other story offerings.