interview by Carl Slaughter
introduction by David Steffen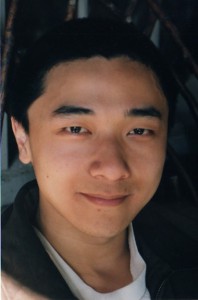 If you've kept up with science fiction publications in the last few years, you've probably at least heard the name Ken Liu. Dozens of his stories have been published just in the last couple of years in the biggest and best SF publications out there today, including F&SF, Analog, Asimov's, Strange Horizons, Lightspeed, Orson Scott Card's Intergalactic Medicine Show, Daily Science Fiction… The list goes on and on. He won the Hugo for "Mono No Aware" this year. He won the Hugo and the Nebula for "The Paper Menagerie" last year, one of my personal favorite stories I've read in years. I just read a fun story by him on the Drabblecast titled "The Call of the Pancake Factory", about a representative of a certain supercorporation amusement park happening to cross paths with a cult of Cthulhu–great story. He's on a roll, and showing no signs of stopping. He's a great writer and you should check out his work if you ever get a chance to read it.
You've been getting an awful lot of stories published the last few years. Did you build up an archive or have you just been a really busy guy lately?
For the longest time, I wrote very slowly, and so there never really was much "inventory." But I've been writing at a somewhat steady, faster pace for the last four years. The more I write, the more ideas I seem to have. So that has worked out well.
How do you maintain quality and quantity? Natural talent, hard work, long hours, disciplined lifestyle, or some combination?
I think over time, I've learned to do a better job of picking out which story ideas seem cool but won't work, which ones are good for flash pieces, and which ones are good for longer development. That has helped to reduce the number of stories I have to trunk.
I've also learned to work better under deadline. Knowing how long it takes me to finish a story and polish it to the point where I'm satisfied with it builds confidence, and that makes it easier to take up new projects and plan them into my schedule.
What's your day job? How do you find time for family, the office, and the keyboard?
I used to be a programmer, became a corporate attorney, and now I work as a litigation consultant for high-tech patent cases, which sort of combines my areas of expertise. It's very interesting, stimulating work, and probably helps with giving me story ideas.
I have two young children at home, ages 3 and 1. As anyone with young children knows, they severely constrain your writing time. I've learned to be better about time management and use the little writing time I do have more efficiently. For example, I try to do some drafting on my commuter rail ride every day.
I can't say I've got it figured out. My novel revisions are going much more slowly than I'd like, partly due to the lack of uninterrupted writing time. But plenty of writers have figured out such a balance before, I just need to keep on working on my process and improve it.
Some author's sell to the same two or three markets or half a dozen markets. You've been selling to every market under the sun. What's the explanation? Diverse material? Looks better on your resume? Just like to shop around?
I enjoy working with different editors. Every editor has taught me something new. And I do write a wide variety of stories, so some stories might be a better fit with F&SF while others might work better at Analog. Not every editor likes everything I write.
I also like being exposed to new readers through new markets, so being published in multiple markets has worked out well for me.
You've been winning and being nominated for a lot of awards. Mike Resnick said about awards, "When you walk out of the convention, nobody on the street knows who you are." This in contrast to, for example, the Oscar. How has winning famous awards affected you personally? How has it affected your career? More sales? More fan mail? Invitations to speak at conventions? Requests for interviews?
I can't say it has affected my personal life significantly — I did get a lot of congratulations from my friends and co-workers, which made me very happy. I think the stories that were nominated got more readers, and of course I'm happy about that.
Career wise, since I don't have a novel, I can't point to any concrete sales boost from the awards. I do think some of the translation deals I've gotten were due to the awards — if nothing else, they help with name recognition, especially overseas.
Unless people ask about the awards though, I just don't think about them much. I'm very grateful to have been nominated and to have won some of them, but what keeps me writing isn't the desire for awards, but to write stories that I want to read myself.
You've been concentrating on short stories. What does the novel horizon look like?
I'm working on a novel, an epic fantasy of sorts, set in a secondary world created by my wife and me together. The setting is an archipelago, and there are magical creatures, gods, and lots of fanciful machines based on ancient Chinese mechanical engineering. The plot is loosely adapted from the historical legends about the founding of the Han Dynasty, and some of the cultural aspects are derived from classical East Asian elements.
The first draft is done, but there's a lot of rewriting left still.
What about the screen market? Any queries to or from Hollywood to buy or write scripts?
I do like scripts, and want to get better at writing them. But there's not much of a market for them unless you're in Hollywood, so, for now, I'm focusing just on narrative fiction.
What's the market like for science fiction in China? Aren't they more into traditional fantasy? You know, beings with magical powers. Personification of animals, like the famous Chinese novel, "Journey to the West." (Or is it more accurately translated, "The Journey West"?) Is there a market in China for traditional science fiction? Biotechnology, space travel, etc.
I'm not an expert on the Chinese science fiction market, but from what I've seen, science fiction does very well there. Of course, China is a very big country, so even if only a small percentage of readers are interested in science fiction, the absolute numbers are going to be big. Liu Cixin's Three-Body trilogy, for example, sold some 400,000 copies, and that's a hard science fiction first contact story. (I've been engaged to translate the first book of the trilogy, The Three-Body Problem, into English, and Tor Books will be publishing the book in the US in 2014.)
A lot of my writer friends in China — in science fiction, fantasy, and slip-stream — seem to have many more readers (even if they don't all have novels out yet). And even my own stories, translated into Chinese, seem to have generated more feedback than they received in English. So I'd say the market is very healthy, overall.
Besides China, how are overseas sales going?
I have a Japanese collection coming out from Hayakawa Publishing in 2015, and I've sold a few reprints to markets in France, Spain, Italy, and other countries. Sometimes I get a chance to work directly with the translators, and that's always such a pleasure.
You have all your stories critiqued on the Critters Online Workshop. How has that affected your writing and your sales?
I haven't used Critters for most of my fiction for a while now. Over time, I've developed a circle of beta readers (several of whom I met through critters) whose opinions I trust, and it's just more efficient to get their take than to go through critters, especially when I'm under tight deadlines.
I think Critters taught me, above all, how to figure out which critiques are helpful and which ones are not. When you're relatively inexperienced as a writer, there's a lot of benefit to getting a wide range of opinions because they help you figure out who your target audience is. Learning to ignore opinions from people who aren't in your target audience is a difficult lesson because our natural tendency as writers is to try to please everyone. But that's impossible, and it's better that you learn this lesson earlier rather than later.
Any advice for aspiring writers?
Listen when other writers share their process and try their techniques out, but don't be surprised when most of them don't work for you — but also be prepared for the possibility that a few will. You won't know which is which until you try them though.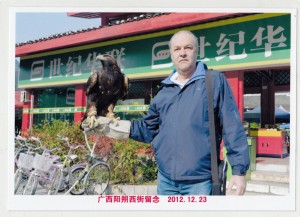 Carl Slaughter is a man of the world. For the last decade, he has traveled the globe as an ESL teacher in 17 countries on 3 continents, collecting souvenir paintings from China, Korea, Thailand, Vietnam, and Egypt, as well as dresses from Egypt, and masks from Kenya, along the way. He spends a ridiculous amount of time and an alarming amount of money in bookstores. He has a large ESL book review website, an exhaustive FAQ about teaching English in China, and a collection of 75 English language newspapers from 15 countries.
His training is in journalism, and he has an essay on culture printed in the Korea Times and Beijing Review. He has two science fiction novels in the works and is deep into research for an environmental short story project.
Carl currently teaches in China where electricity is an inconsistent commodity.