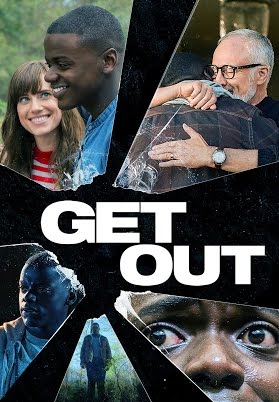 Just a few days ago I reviewed most of the Ray Bradbury Award finalists (an award that is held alongside the Nebula Awards for movies), but I didn't review Get Out because I hadn't quite gotten a rental of it yet.  Just before the Nebula voting deadline, I've watched it and slipped in the review–the voting deadline is tonight!
Get Out is a thriller/horror film written by Jordan Peele and distributed by Universal.  It won the Academy Award for Best Screenplay and was on the final ballot for Best Film of 2017.
Photographer Chris Washington reluctantly agrees to accompany his girlfriend Rose Armitage to her parent's isolated rural estate.  Chris worries that her parents won't be welcoming of a black man dating their white daughter.  He meets her neurosurgeon father Dean and hypnotherapist mother Missy and brother Jeremy, who all (unsurprisingly to Chris) make discomfiting comments about Black people.  There are a lot of things that are… off about the Armitages and what goes on on their property.  Their servants (both Black) (Marcus Henderson and Betty Gabriel) are oddly intense and hostile toward him, and Missy repeatedly pushes Chris to let her hypnotize him out of his cigarette habit.  One night, when he comes back into the house after sneaking a smoke, Missy catches him alone and seems to hypnotize him, but he wakes up sure it was a dream.  The next day the Armitages have company, a yearly gathering of all their friends, and things only get weirder.