written by David Steffen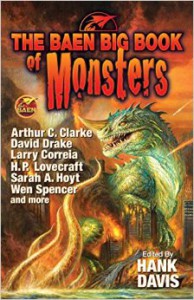 "A Single Samurai" by Steven Diamond was first published in The Baen Big Book of Monsters published by Baen Books.
In this story a mountain-sized kaiju has arisen in Japan, rising from beneath the land itself where the landscape had built up around it.  The monster is moving across the countryside, crushing everything in its path.  A samurai has survived its uprising where so many others haven't by riding the kaiju as it rose up and climbing up its back even as the soil and trees and rocks shift off the kaiju as it walks.  To save Japan he has to finish his climb and find some way to kill the monster.
This was my favorite of the category, and earned my vote.  I am not well-versed in Japanese culture, so I couldn't say how authentic the viewpoint was, but from my layman's eye it worked well enough for me.  The story is very short, and doesn't overstay its welcome–it kept me interested from beginning to end.  The resolution made sense in retrospect but I didn't see it coming.  The story is so short and the premise is relatively simple, so that there's not a lot else I can say about the story without spoiling it.
The Hugo packet included the entire collection, but this is the only story in the collection I read, so I can't comment on what I think of the volume as a whole–if you didn't register for WorldCon and get the Hugo packet, I think that the collection is the way to get the story.