written by David Steffen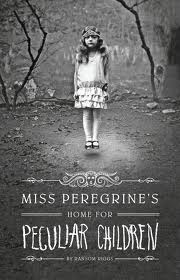 Miss Peregrine's Home For Peculiar Children is a 2011 contemporary fantasy novel, the first in a series of three books by Ransom Riggs depicting children with unusual abilities.
The protagonist of the book is Jacob Portman, who as a child was enamored by his grandfather Abe's stories of fleeing from Nazi persecution of Jews in World War II–to hear his grandfather tell it there were literal monsters and his grandfather found safety in a secret safehouse with peculiar children watched over by a "wise old bird". When he was a child, Jacob took these stories literally, but as he grew older he doubted their literal reality, figuring that his grandfather was communicating with metaphor about the horrors of war. As his grandfather dies, Jacob sees a vivid vision of what appears to be a monster lurking nearby, but no one believes he saw what he saw, and he is sent to therapy to cope with the trauma of his grandfather's death.
His therapist, Dr. Golan, suggests that Jacob should travel to Cairnholm, Wales, the place where his grandfather had lived at the supposed home for peculiar children. There he can either establish the reality of the home, or not, and settle what everyone else believe to be fantasies. He travels there with his family on a work trip.
This book has a very good hook, although it's clear from the title and the picture of the book that it's clear that "peculiar children", whatever that means, are central to the book, and one can probably assume that the home for peculiar children exists or they wouldn't name the book after it, there is still plenty of mystery in the book to keep turning the pages. As the mystery is revealed there is plenty else to keep the story going in terms of interesting characters and looming villains. It's hard to discuss it in much more detail because the reveal of the mysteries is the biggest part that is fun in the book.
But another thing that makes this book stand out from other fantasy books is the found pictures that form the basis for many of the ideas. Throughout the book are actual found photographs of "peculiar" children, children who appear to be floating, or appear to be an invisible child visible only as hovering clothing, or things like that. Riggs has worked with collectors of these odd photographs to make a huge collection of images of these, and many of the characters are based on these photographs, so it's really interesting how those odd photographs, presumably of early photographic special effects, were the basis of the story–it lends the story some feel of truth as well as adding a very cool weird touch to it all.
Highly recommended!