written by David Steffen
Can you believe it's been a whole year since we officially launched The Submission Grinder? At that time the Grinder only had its base functionality , the minimum required feature set to make it basically useful. We had just launched, so of course we didn't have any submission data yet apart from the data of its founders. The Grinder site was pretty unreliable as well, down almost as often as not. And the choice of Courier font for everything on the site, while chosen with the intention of giving a nod to the typewriter-based standard manuscript format that is somehow still used today, managed to almost universally annoy everyone who visited the site.
These days the site is stable, we've changed the style to be more aesthetically pleasing, our user base is growing and with it our collection of data. We continue to hold to our commitment to never charge anyone for any feature. And our feature set is continually improving.
A concern oft-cited in the early days was that the site would be just a flash in the pan, here today gone tomorrow. To which we responded "The only thing that proves longevity is longevity". So here we are a year later and still going strong, still improving. And we plan to stick around. So what's gone on in the last year since the launch?
Statistics
Markets: 2642 (1165 open)
Users: 2033
Submissions: 34,403
Total site visits: 244,963
Unique visitors: 28,013
Pageviews: 1,444,035
Page per visit: 5.89
Largest contributors of site usage
1. Organic (Google)
2. DiabolicalPlots.com (Main Site)
3. Codex
4. AbsoluteWrite
5. Facebook
Shiny Features
We have implemented a wide variety of features that we feel are shiny and useful, too many to want to list them exhaustively here. But here are a few of the ones we are the proudest of.
1. Response Time Chart
A histogram on each market page of the response times for that market. The red bars represent rejections, the green are acceptances. The higher the bar, the more responses on that particular number of days wait. You can see in this example that this particular market has a nice bell curve of rejections centered at around 20 days, with a long tail and acceptances scattered all over. You can get a lot of information at a glance.
2. Response Recency Chart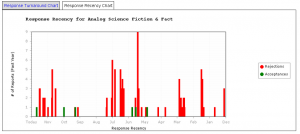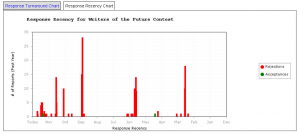 Another histogram, this one represents how long ago the responses were reported, with today being on the left side of the graph and one year ago being on the right. From this you can glean different kinds of information. For instance, you can discern an expected period of response,such as the Writers of the Future snapshot here where you can see their quarterly submission cycle pretty well. And you can also tell if a market just stops responding for some period of time, like you can see at intervals in the Analog snapshot.
3. My Market Response List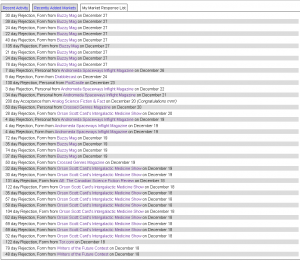 It's common to want to look at the recently reported responses just for the markets where you have pending submissions, but before this feature you would have to visit each page manually and look at that list. This list provides a single list which lists out the recent responses that only includes those markets where you have pending submissions.
4. Post-Acceptance Tracking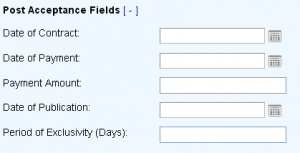 Acceptance of a story is one of the goals of writing a story, but it's not the ultimate goal. After the story's accepted, you need to deal with the contract, payment, and publication of the work. That is all an important part of the process so we let you track that information as well.
Upcoming Shiny Features
And we have plenty more coming down the pipeline, including:
1. Newsletter
Among other things, you will be able to customize the newsletter to suit your exact interests. If you only want to hear about updates to pro-paying romance markets, that's what you'll get. This will also include other sections like a Fundraising callout which will provide links to newly announced publishing-related fundraising drives.
2. Poetry and Nonfiction Markets
We don't yet have full support for these,you can track your submissions to them, but the full listing and search engine is being worked on.
3. Publication Brag.
Users who opt-in can already see their name on the site when they get that rare acceptance, but this will also help you spread the word when that story actually gets published.
4. Dean Wesley Smith Submission Score
The author Dean Wesley Smith has published a suggested system called the Race for encouraging writers to submit which has proven itself extremely useful. The Grinder will calculate this number for you, to help spur you on to send that story out.