The baby's crying woke me from dead slumber. My heart pounded, but I didn't move. I dreaded holding my baby. Guilt, it seems, overpowers fear. I draped my feet over the edge of the bed to search for slippers.
The screaming reached pitches no human throat should emit. I winced, accidently brushing Sean's sleeping shoulder. He'd turned off his audio inputs, since he had work tomorrow. My maternity leave lasted another eight weeks, and we'd agreed I'd handle nights but I was tempted to shake the bed so he'd awaken.
My slippers slapped the cold floor. Ocean lay in her bassinet, her howls rising in peaks and valleys above and below my ears' range.
Sean couldn't hear her. I could return to bed and cover my head.
Ashamed, I steeled myself. Pinfeathers prickled my palm as I supported her head and lifted.
Vague green eyes searched beyond my face.
We'd checked the box for tetrachromat vision—an easy choice. Once we were dreaming of our future child, it was hard to stop. Designing her became like adding options on a new car. After all, our after-market mods had attracted us to each other.
Sean'd said, "We chose to be transhuman, Chrissy. She'll have the best gifts from birth."
In the rocking chair I pressed her to my chest and she latched. Parrot-blue feathers lined her scalp, difficult and potentially traumatic to add later in life. Her eyes slid past me, tracking light, or infrared, or magnetic fields that lead birds south.
"Except I didn't want a bird," I said.
I pressed my nose to her, using my electrically stimulated sense of smell. Inhaling dusty fluff, I snorted and recoiled.
She grumbled and reattached. It wasn't fair to her, but her extraordinary modifications left me wondering, "How much of me is left in her?"
I tipped my head, too weary to watch her nurse now that she'd gotten a good latch. My fingers rubbed her bare foot.
It wasn't that she needed to carry my genes. People loved their adopted children. My fingers slowed on the pink skin of her foot. Sometimes I didn't feel she was of the same species.
"Transhuman!" Sean liked to say, as if knowing the label meant he'd joined the club. "That's where we're all headed. Ocean will be envied."
Maybe I cried because I was tired of feedings every two hours, but how could I complain? It was my own doing. When I'd handed Ocean to my mother, she'd pulled the newborn away, as if protecting her from parents who would do this to their child, who would make her into something new.
So we'd suffer on, together, trying to connect in the long hours of the night.
"Honey?" Sean said from the doorway. The scales grafted over his shoulders glimmered. He'd left them off his cheeks, since his employers frowned on mods, but he was sure the world would be more ready when Ocean grew up.
I sniffed.
"You've been gone a long time." He kissed the baby and set her into her crib. We held our breath, but she exhaled and remained silent.
As we left, he slipped the door nearly shut.
"I can't…" I clutched him, speechless. He'd think I blamed him, even though we'd both made choices.
"You're tired."
"And I expected that, but it's supposed to feel worth it … She isn't anything to me. She's barely human."
"All babies are barely human. You're tired and second guessing yourself. I'll stay home, and you can rest. Okay?"
"You have to go in," I protested.
We returned to bed.
Sean said, "All parents gets scared. That we won't be good parents. That we didn't do everything right. But what she needs now is food and sleep. And when she needs the next thing, we'll see she gets it. She's just a baby—our baby."
"Our baby," I repeated.
"And our baby could never have been ordinary." He rolled onto me.
I slid him to the side, glad Ocean had fed.
He nuzzled my neck. "Bodies change, that's not what matters, right? We're going to get old, but you'll still love me?"
"I'll love you," I agreed, grabbing a tissue off the headboard. I wiped my nose then squirmed beneath his comforting weight. "Mods and all."
He stopped kissing my tattooed circuits. "You like some of my mods best. Want me to show you?"
I giggled.
Ocean skipped a feeding, letting us sleep for four solid hours. Suddenly forever didn't seem so insurmountable. And when her pinfeathers grew in, they were beautiful and unique, just as she was.
***
"Mama?" Ocean asked.
I clutched my granddaughter, finding it hard to look away as I remembered Ocean at that age. I shook my head, amazed forty years had passed.
My glance flickered to Ocean, surprised her feathers were lifted.
"What's wrong, darling?"
Tears glistened in her eyes. She pushed the baby's blanket back to show eyes, a hazy baby-blue, and pink skin.
Since Ocean's birth, they'd outlawed pre-birth modifications, and frowned on adaptations before the age of sixteen unless illness applied. Cases of genetic enhancement had gone to trial as child abuse, though we'd luckily never suffered more than strange looks and clucks from judgmental teachers. Bioconservative legislation had outlawed designer genes. Sometimes, at the playground, I'd regretted making the choices for her, but I'd never again regretted having her.
Ocean's green eyes measured fields I couldn't see. "She's…"
"Lovely." I smoothed her cheek.
Ocean sighed. "She looks nothing like me. As if we come from separate worlds."
The newborn seemed to fit in my arms—because I knew how to hold a baby. Being a grandmother suited me, better than being a mother had.
"Oh, darling, let me tell you a story," I said softly, standing to place the newborn in her bassinet.
---
© 2015 by H.E. Roulo
Author's Note: Transhumanism, the artificial advancement of mankind, fascinated me and I knew there was a story there. In my research, I focused on technology and recent advances. Fortunately, I attended a panel on the topic. Many of the participants admitted that, like a lot of new technologies, sex was a major motivation for body modification. However, they explored larger questions of self-improvement and experiencing the world. I was impressed by the counter-culture feeling, and their awareness that what they wanted might not be right for everyone. I left thinking more about the people than the technology.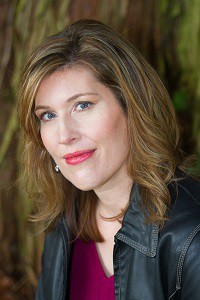 Heather Roulo is a Pacific-Northwest author. She has been published in more than a dozen magazines, anthologies, and podcasts. Recent short stories have appeared in Nature and Fantasy's special Women Destroy Fantasy issue. Her podcast novel Fractured Horizon was a Parsec award Finalist in 2009. The first book in her Plague Masters Series will be released from Permuted Press in April 2015. Find out more at heroulo.com or on twitter @hroulo.
---
If you enjoyed the story you might also want to visit our Support Page, or read the earlier story offerings:
DP Fiction #1: "Taste the Whip" by Andy Dudak
DP Fiction #2: "Virtual Blues" by Lee Budar-Danoff
DP Fiction #3: "In Memoriam" by Rachel Reddick
DP Fiction #4: "The Princess in the Basement" by Hope Erica Schultz