written by David Steffen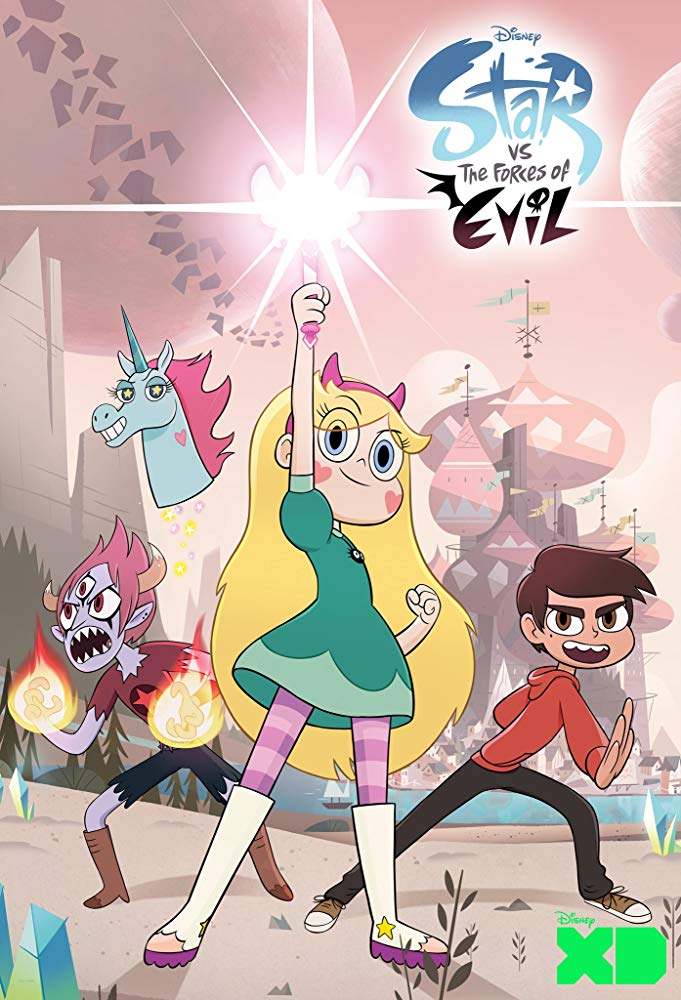 Star Vs. the Forces of Evil is an action comedy cartoon about an interdimensional mage-warrior princess visiting Earth. Season 1 aired on Disney XD between January and September 2015.
Star Butterfly (Eden Sher) is a princess of Mewni, a magical parallel dimension. On her 14th birthday, her parents the king and queen give her the family heirloom magical wand. When she accidentally sets fire to the castle, they send her away to Earth for training. She ends up enrolling at Echo Creek Academy where principal assigns her to pair up with Marco Diaz (Adam McArthur), who has a reputation for being very straight-laced and by-the-book. Soon after Star is attacked for the first time by the monster Ludo (Alan Tudyk) and his gang of henchmonsters who want to steal the wand and she discovers her magical abilities and finds out that it's also fun kicking monster butt.
Star is fun-loving, impulsive, has a low tolerance for boredom, and gives her everything to everything she decides to do. Marco, in many ways, is very different very careful, nervous, risk-averse, and more likely to talk himself out of doing something than to just dive in as Star would. But they very quickly become best friends, complimenting each other as friends, each acting as a kind of balancing force on the others extreme tendencies. Ludo and his gang of monsters are a recurring element as he continues to try to attain the wand, and Marco and Star work together to fend him off.
Most of the episodes feel largely episodic, small standalone adventures, but many of them do add elements to build backstory for larger arcs, more about Star's family and the history of Mewni.
A lot of the appeal of the show is the fun drawing style that goes along with Star's unique and powerful spells like "narwhal blast" and "blueberry cupcake bazooka", and the writing and voice acting is superb.
And if you like this season, there are three more! Highly recommended, one of my favorite shows.