There were already two Irene Boswells onboard and a third in the making.
Radiation poured out of the Omaha Device in an endless stream of buttery yellow light, and Irene (the Irene in the containment room) knew they were doomed. But she slapped patch after patch over the ruinous crack in the device's shell because she hadn't come twenty billion miles to sit and wait for death.
Huang's voice came through over the intercom, tinny with horror. "Your hair," he said.
It was on fire, or close enough. The strange light lifted it away from her face in a rippling wave. The ends were burning down like the fuses of a hundred thousand bombs. Her arms were smooth and hairless, her face the same.
"Just tell me what to do next," she said.
There were no more patches in the kit. A six inch gap remained in the smooth white shell but it may as well have been a mile long. The Omaha Device just sat there, as unyielding and enigmatic as a ceramic tortoise, and still that noxious light poured forth. Irene squinted but she couldn't see past the light, she couldn't see what was inside. Dammit, if she was going to die today she wanted to know what she was dying for.
But Huang was telling her to get to the controls, just rip off the back panel and do what I say, and Irene wasn't about to argue because he was the computer specialist, wasn't he? He stood on the outside of the containment room with his palms pressed flat to the glass. Begging.
She tore herself from the toxic mystery and dropped to her knees beside the control panel. She was sweating and starting to shake, and it took three tries to wrestle the slick casing open. What she found inside looked more like an engine than a computer, full of pipes and valves and a cooling unit that had seen better days.
At Huang's urging, she tore open the manual that was chained to the device. She had nothing but a wrench and a screwdriver sealed in the room with her, and as she skimmed the first elaborate diagram she didn't think they'd do the job.
It was selfish to wish she had stayed in navigation. If she had, there would be somebody else trapped here instead.
She hadn't abandoned her post though, not really, because the other Irene was still at the wheel (well, the console), and just thinking about that other Irene made her hands shake worse.
It wasn't right, it wasn't natural, it was a mistake.
At the other end of the ship, in navigation, Irene looked over the ship's readings, and they didn't make a bit of sense. The ship was accelerating, but it wasn't changing position. Bandile was in the room with her, a stun gun aimed loosely in her direction, but he didn't have the nerve to take her down. Her mind began to wander. Her thoughts flitted back and forth to the containment room, where a computer like an engine was coming apart under her hands. She jerked free of it. It wasn't her fault. It wasn't her responsibility.
Because honestly? Irene had really wanted to be a dancer, if only she hadn't sprained her knee so badly in tenth grade—and it was entirely possible her parents had lied when they said the injury was fatal to her aspirations. They'd always wanted their kids to pursue a STEM career.
Funnily enough, the knee hadn't bothered her one bit during mission training.
This Irene had always resented being funneled into the sciences. It was the other Irene who had embraced her studies wholeheartedly. It was the other Irene's fault they were both here.
*
First, there was a spaceship. A rather large and complex spaceship (because how else are you going to travel that far?) built precisely for eight crewmembers.
Three were Americans, because the message was received in Nebraska of all places, and the remaining five were representatives from around the world, because the message specified ambassadors of genetic and cultural diversity—and also because let's face it, this sort of mission was mind-bogglingly expensive, and anyone with a checkbook was invited to try out.
The other delegates included: a Russian man, a Chinese man, an Italian man, a South African man, and a man from South America (let's say…Brazil).
There was also a girl (because there is always one girl). She was one of the Americans. She was technically the navigator, because everyone had to fill a role, but for the purpose of the mission she was also the anatomical female. One uterus, two ovaries, check.
So, first, there was a spaceship. Well, first there were plans for a spaceship, and they fell from the sky in northern Nebraska, attached to a device that resembled a ceramic tortoise. There was quite the welcome party there, full of scientific and military personnel, because an interplanetary correspondence had been going on for decades, and this was their first tangible gift from space. They knew what it was supposed to be, but it could have been an elaborate Trojan horse instead.
It wasn't.
The ship was another ten years in the making, which wasn't bad all things considered. It gave the entire world time to agonize over the selection of a crew. After all, the ship was only designed to carry eight. Who was qualified to represent Earth in the first face-to-face meeting with their distant friends?
*
The alien light flowed through Irene and tugged strands from her hair, her memories, her thoughts, her DNA. The Omaha Device was still desperately trying to process and package, to collate and collect. It bled radiation and took in great gasping gulps of Irene Boswell.
Her fingers reddened and blistered from the heat of the wires, but she didn't have any pliers and Huang was insisting that control had to be transferred out of the room now, right now, no time to let the equipment cool even if they could risk going to standby.
"You have to hurry," said Huang.
And Irene screamed, "Tell him to stop looking at me!"
On the other side of the glass, a man lay trussed on the ground, his head and shoulders twisted in her direction. His eyes bulged in their sockets. A shadow covered half his face, contracting and contorting with the soundless yammering of his jaw. His name was Michael—or Miguel, or Mikhail, depending on which country he was from. That wasn't important.
Mi/gu/ail lost it, plain and simple. He couldn't handle the dreams being tugged like loose threads from his brain every night. He couldn't handle the theory tentatively formulated by their own computer—the computer they kludged into the alien system out of nervousness, suspicion, unwillingness to rely entirely on alien design. The mission probably would have gone a lot better if they hadn't tried to guess what it was doing.
They found him attacking the Omaha Device with a wrench. Huang and Parker dragged him from the room, but Irene was still inside when the casing cracked. She should have been in navigation, but she'd answered the distress call, and now she was trapped.
Irene felt herself splitting again. She shut her eyes, her mouth, her fists. She held her breath and clamped her thighs. But the pull was relentless. It scanned the heart of her and jotted her down in ones and zeroes or whatever the aliens used. It should have only filed the information away for future reference, but that idiot had broken the storage unit. Now there was a big fat crack in the tortoise leaking bits of crewmember, and Irene was splitting again.
For a moment there were four hands fisted in the wires, and then there were two.
Down in the sleep deck of the ship, another girl appeared. A full-figured shadow girl named Irene Boswell. This Irene resented each and every one of the crew. For two months she had put up with their pet peeves and their bad jokes and their bravado masking fear. They were friends and colleagues, but if she never saw a single one of their faces again she'd be gladder for it. She was sick of this crew and sick of this mission and sick of this ship.
Irene ran to the nearest communication panel and ripped it from the wall. She liked the way the wires snapped in her grip. She set off to tear something else apart.
*
Before they became a crew, they spent years trying to destroy one another.
Eight thousand candidates whittled down to eight hundred whittled down to eight dozen whittled down to eight. A ludicrously small crew, but the message said eight would go, and eight would be sampled, and it would all be perfectly safe.
In theory they were all jockeying equally for a slot, but everyone knew how the selection would shake out. The Chinese candidates were competing with the Chinese candidates (and several other Asian nations, but it was always going to be China). The Europeans were competing with the other Europeans. Africa and South America were probably lucky they snagged one spot apiece. If there had been a more genuine commitment to representing the world then the Middle East should have been there, but the Americans got greedy in the end and held three spots for themselves. Nebraska, remember?
And within and across these continental divides, all of the women eyed one another sidelong, because in addition to their national colleagues they were also competing with each another. A thousand voices insisted, "I am unlike the rest of these women. I am the best of us." And maybe some of them felt a nagging guilt, because it seemed a shame to earn her place among the men by trashing the qualifications of the other women, but let's be real. There were only going to be eight spots, and in all likelihood only one would go to a woman, and goddamn if any of them came this far to see it go to someone else.
When Irene Boswell was named navigator at the final roll call, she wanted to cry with joy, but she kept it contained because she had spent a great deal of time proving her emotional unflappability to the psych evaluator. Several of the men smiled and let the tears roll happily down their cheeks, but that was all right.
That was different.
The psych team was meant to reject the worst and prepare the best, but stress did amazing things to the brain, and long-term voyages had a way of amplifying hidden qualities. Somehow, no matter what you did, you always ended up with a hothead, a depressive, a workaholic, and that one guy who totally buckled under the pressure.
*
The ventilation system couldn't keep up. The walls of the containment room flickered and groaned. Red lights strobed and klaxons wailed. The ship was breaking, breaking, breaking.
More of them stood outside the glass now: Huang and Parker and Freddie. Even Bandile had come up from navigation. They had nowhere else to go. Either Irene neutralized the device, or the walls shattered and they all broke apart beneath the accelerated effects of the Omaha Device.
Irene slammed her bloody fists against the glass. She said, "You have to get me another patch kit."
At least, that's what she thought she said. Her lips were numb and her words came out garbled, but she was still lucid, dammit, she knew what needed to be done. Huang stood by the outer door, shaking his head.
"The inner door's breached," he said. "We can't use the airlock."
In the navigation room, Irene danced beneath the strobe lights. She rose slowly on her toes and then down again, in lithe stretches and remembered turns. There was not one twinge of pain in her knee, Mother. Her eyes drifted shut. She extended her arms and twirled. The klaxons faded to background noise and she danced for the young woman she'd once been.
In the sleep deck, another Irene ripped photos off the walls of her crewmates' bunks. She was a furious shadow girl screaming louder than the ship itself. Parker's reading tablet: smashed. Freddie's ukulele: oh, definitely smashed. The floor filled with debris, pictures and letters and electronics in a thousand pieces, and each piece was a tiny kernel of her pent-up fury, the inevitable explosion of the perfectionist pursuing an impossible goal.
In the kitchen, yet another Irene flickered ghostly and half-formed on the floor. She pulled her knees to her chest and cried and cried and cried. Her armor had cracked, as surely as that of a tortoise dropped from the sky by a hungry eagle. The cabinets rattled madly overhead, and she wished something would just fall on her skull and be done with it.
There were four Irenes, then five, then six. Each one a little different. Each one the same woman. In the containment room, Irene Boswell watched the color leach from her hands and she knew there wasn't much time left before she'd be too thinned out to wield the wrench.
Her mouth trembled, then firmed. She said to Huang, "I'm so sorry."
*
It was a deal that couldn't be refused.
But.
Nobody could read the terms and not feel a bit of self-doubt.
The little gray men (their color was unknown, their gender unlikely to be binary, but play along)—the little gray men were engaged in research. They wanted a sample. They would send along the collection device and the means to deliver it back. In exchange, humanity would keep the design for a ship capable of intergalactic travel. Eight lives (and they wouldn't even be harmed, it isn't harmful, it's only a sample), and in exchange you get the universe.
It was ludicrous, of course. How could Huang stand in for Asia? How could Bandile speak for all of Africa? How could eight represent eight billion? It wasn't just the potential sacrifice that made people uncomfortable (would they even come back?), it was the limited data set. The entire human species was about to be filed away in some universal library, and they only got eight volumes to tell their story.
Because that was what the little gray men wanted, right? Not endless sociological footnotes, not a thousand characters yammering for attention so you couldn't even remember their names. They wanted a simple narrative. The story of humanity, condensed. But they weren't going to get that with a crew of eight or a crew of eight hundred.
The only way to understand the people of Earth was not by wedging more people into this mission. It was to launch a hundred million missions with a hundred million different crews.
*
"Boswell! Irene!" Huang screamed through the intercom as though he could stop her if he only said it loud enough. In addition to the hothead, the depressive, the workaholic, and the coward, there was always a romantic.
Irene had resisted him for a year, ever the consummate professional (and deep down she suspected the aliens were keen to observe a mating ritual; hell no). Now she stepped close to the glass, with her burning hair and smooth arms and bloody hands, and she pressed a kiss to the glass. She said goodbye with her eyes. Then she picked up the wrench.
It was impossible to distinguish between the trembling in her body and the shaking of the ship. She couldn't patch the device. She couldn't turn it off. She couldn't reroute the controls. All she could do was close the overflow valve before it reached the rest of the crew.
Even now, the smooth white shell was cool to the touch. Irene fell to her knees beside it, groping along a crack she could barely see, ripping off the patches that hadn't dried solid yet. She almost stopped there, caught in the thick persuasion of alien radiation. It was only trying to fulfill its purpose, after all. For two months it had sent subtle waves throughout the ship, recording their interactions, their thoughts, their dreams. Somewhere inside this husk were samples of their DNA, the better for syncing data. The better for recreating subjects for future study.
Inside this lump of alien technology lived all of Irene's hopes and fears. Her confidence and her hesitation. That weird dream where she was an opera singer climbing up the walls of the opera house, bellowing love and grief directly into the faces of the people in the balcony seats, and she woke up strangely aroused and almost went knocking at Huang's bunk.
Maybe the data was still salvageable. Maybe, when this was all over, Irene Boswell would continue to exist somewhere in the universe, although in what form and under what conditions she refused to contemplate.
Huang was yelling and trying to breach the outer door. Irene couldn't hear him anymore but she knew what he was saying. She turned her back, to make it easier. Parker and Freddie were there to restrain him. They knew what needed to be done.
A thin pipe snaked out beneath the Omaha Device. A scant foot of it was accessible before it burrowed into the wall. Irene wedged herself into position, half-concealed behind the device, and struck the pipe with the wrench. She struck again, and again, and again. She was sweating and crying and her hands kept flickering and threatening to drop the wrench, but the pipe dented once, dented twice, pinched halfway shut. A high-pitched whistling sound escaped through the crack. Everything was yellow light.
The pressure built until the device vibrated madly at her side. Hot air shrieked through, panicked, desperate, scrabbling for release like a fisherman fallen beneath the ice.
She felt it envelop her, when the device finally gave out. Vaguely, she knew that it had exploded. She knew that a large chunk of the shell had pinned her to the wall. But she only felt the hot cushion of power wrap around her body, in its dying throes still trying to collect and quantify. It poured down her throat and in her ears. It raced through her blood, scanning, testing, plucking out sample after sample. It wrapped around her heart and her brain and her knee, and it squeezed.
Irene Boswell shattered into a million pieces.
One by one, Irene Boswell disappeared from the ship. They were entangled, after all. She was all of them simultaneously: the good student and the dancer and the angry girl and the grief. And she was more than that. She was the half-formed wraiths who didn't quite split off in the containment room: the lonely woman, the daughter, the good friend and the bad lover. But even in all her complexity she was not nearly all the women left behind on Earth, any more than their captain was all of the American Midwest or their communications specialist was all of South America.
She was only Irene, and she was gone.
*
The ship limped along, sans navigator. The crew left the Omaha Device in pieces. The ventilation system cleared the lingering radiation, making it safe to enter the containment room, but nobody did.
A week later they saw it, flickering in and out of radar on their ailing machines: the other ship. And then they really saw it through the transparent hull of the navigation room: a strange and beautiful emissary, far larger and more advanced than the little exploration vessel whose plans they had traded for human samples.
The remaining crewmembers put on crisp uniforms. They combed their hair and cut their nails. They assembled in the docking room antechamber with all the solemnity of funeral attendees. None of them had slept in days, and the captain couldn't stop the nervous tic in his cheek. The coward—whose name was almost definitely Michael—had deep circles under his eyes and red marks where his wrists had been tied until recently.
Whatever data the Omaha Device gathered was gone, disintegrated and vented off the ship. No computer simulacrums. No travel narrative. No biological samples except what they carried in their own bodies. Despite their best efforts to fulfill the terms of the deal they were seven now, not eight, and their anatomy woefully misrepresentative.
They really should have brought another girl.
---
© 2019 by Samantha Mills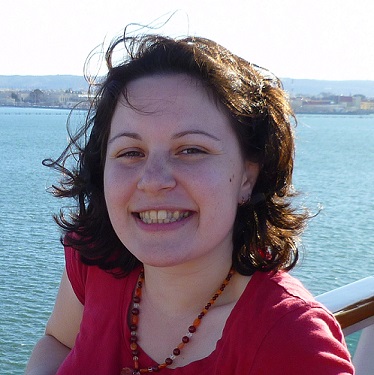 Samantha Mills lives in Southern California with her husband and babies and cats, in a house that might be haunted by a demented handyman and his loyal army of spiders. Her short fiction has appeared in Beneath Ceaseless Skies, Strange Horizons, and LampLight Magazine. She blogs about life, reading, writing, and pop culture at www.samtasticbooks.com, or come by and chat on Twitter @samtasticbooks.
---
If you enjoyed the story you might also want to visit our Support Page, or read the other story offerings.