The zone we drop into is softer than the digger likes, so the foodies lead the way from the start. Three, for a heavy crew, each of us with our own technique. Fold murmurs mantras aloud, rhythmic repetition, the crunch of crust, the crunch of crust. The new hire is next, silent, head down, hands clasped. Maybe looking at videos in her visor. I do best with just the drugs. No distractions. I imagine the salty rice-paste crust of tiger bread, capture the smell, the taste, the texture of the craggy shell, imagine biting down to yes, the crunch of crust. I want it. I focus on wanting it. The soft, steaming inside is good, I spare a thought for it, but what's important is the crust.
The digger rolls forward. The surface under its tracks has become hard and craggy, salty fired rice paste over a crust like a geological formation. It crunches, flexing as it bears the digger's weight, but it holds. The machine roars onwards and we follow, foodies and mercs and techs, ants at a picnic. Onward, into the Bake.
The digger is mining gear, obviously, but the business end is custom. Rock drills would just churn uselessly—instead, claws scoop and gouge, crimping and pelleting. We advance in a torchlit tunnel of pressed dough, waste material dumped as wadded dumplings behind us. Far back along our trail of flares, away from the foodies, the hard crust floor softens back into the same material as the tunnel walls, spongy, yielding, always edible. One by one, our lights are swallowed up. This is the default terrain, the ur-substance of the Bake. Bread without end.
We assume some things about the original Bakers. We assume they are dead. We assume they were extremely advanced, at least in certain areas. They were ambitious, explorers, visionaries. And when their extradimensional adventures brought back the micro-organisms we now misclassify as some sort of cosmic cousin to yeast, we assume they engaged in scientific study before they tried to make a loaf of bread with them.
Maybe not. We do assume they were human.
The digger breaks through into an air pocket. The foodies pull back and the two mercenaries come forward, point flashlights and guns into the warm cavern. All clear. Techs poke lasers inside, take readings, somehow use the hollow to get a better fix on the signal we're following. Exactly what that signal might be is none of my business, and I've been paid enough to keep my guesses to myself. Four years ago a deep explorer team found a single glove embedded in a dough cyst. I've seen pictures. It didn't look like much. That oven mitt went on to inform the development of a material so impervious to harm it changed the course of two corporate wars. A shame Bakelite was taken..
I reinforce the crust beneath our gathered weight, concentrating on the range of textures and taste, stray crystals of salt, the savoury flare of burn marks. The Bake obliges, forming new layers as I imagine them. As the ground shifts and hardens with my thoughts, there's still a tiny thrill, the rush of shaping our environment with mere whim. I—we, with the other mission-critical foodies—we are as gods (within a four to six metre radius, and assuming our desires do not extend to a substance not generally defined as a baked good).
And then I smell apples.
It takes me by surprise. Just for a moment, the infinite yeasty funk of the Bake parts and I smell roast apples, cinnamon, nutmeg, brown sugar. Bubbling jam seeping up around a burnt crumble topping.
The digger tilts slightly. One balloon tyre is suddenly sinking into molten crumble, oozing caramelizing fruit sugars. I jerk in surprise, bite my tongue. The pain helps empty my mind. It's over in a second as the other foodies blot it out and there's nothing but plain, structurally sound breadcrust under the digger's wheels. I'm not sure anyone even noticed. My heart pounds in my throat.
I haven't had a blip like that since basic training, never so completely without warning. I glare at the others from behind my visor. Fold and the newbie seem occupied. The techs bustle. The mercs watch. Maybe one of them's a latent foodie. If they're not taking their appetite suppressants, it could happen…but this is denial, because that wasn't just pie. That was my pie.
We cut a path around the air bubble and press on. I keep us on tiger bread without incident. When our signal begins to fade, the techs unload a sensor pod. It has to be sunk into the ground, trailing a line as an aerial, so we all wait around as Fold constructs a custard pit. His specialty. A bead of sweat rolls down his chin as he mutters, dropping into the expanding, bubbling yellow hole by his feet. The yellow of yolk, the yellow of yolk. The Bake is obliging, but liquids are a grey area. Technically I think he's invoking a single, lidless custard pie, four metres tall, half a metre across. God knows how he trained that one. The techs poke the pod under the custard with a pole, paying out cable as it sinks.
I crunch over to the new hire. She's tall but somehow fragile-looking despite the bulky environment suit, standing apart from the techs and the blank-masked heavies. Like Fold and I, her helmet is open at the nose and mouth, air supply washed across her face, so as not to obstruct her sense of smell. The air in the Bake is more breathable than you'd think.
"I didn't introduce myself in the shuttle," I offer. "I'm Clipper."
"Victoria. Vick." She scratches distractedly at the corner of her mouth.
"Been doing this long?" I persist, because otherwise my only conversation on the expedition will be Fold. The rest of the crew keep foodies at arm's length, and Fold's relentless mysticism is probably why.
"Not very," Vick allows. "Little trips. This is the biggest."
A research group, probably. There is something oddly familiar about Vick, and I wonder if we've crossed paths before. "How are you finding it?"
"It's fine," she says. "No surprises." She casts around for something to say. "The suits are better than I'm used to. Not too hot." Another awkward pause. "I get very chapped in the heat."
The suits are excellent, full-body cooling coils instead of the usual back-and-wrist pads. From the action-movie stealth shuttle that dropped us off, to the cutting-edge apparatus currently settling into custard, this is easily the most expensive expedition I've ever seen. I don't come cheap myself, and neither does Fold. So I take Vick's inexperience with a pinch of the salt that I'm imagining, glittering on that thick, supportive crust.
"Always good to hear someone from the old country," I say, suddenly realising what's so familiar. The drugs make you tune out things that aren't food. "You don't meet a lot of Scots in this line of work."
She looks confused.
"The accent," I press. "You could be from my town, even. You grew up near Inverness, right?"
"Oh. Yes. I guess so," she says. "I've never thought about it much." She goes back to picking at her mouth. It is indeed starting to peel.
"Try closing your eyes really tight." I say. She looks confused again. I point at her mouth.
"The itching, right? It's always the same in these suits, soon as they seal you up you gotta scratch. So you go to town on the only bit that's exposed. Classic displacement. Scrunching my eyes up always helps me."
She lowers her hand and looks at me for a little too long.
"Thanks."
We're moving on before I can prise any more conversation out of that. The new heading is somewhere far below us, and the drill doesn't work as well at sharp inclines. I transmute the material ahead of it to speed our passage, swapping spongey bread for the lightest, flakiest pastry I can imagine. It shatters beautifully as the digger comes crashing through, great sheets of buttery rough puff obliterated under our boots. Fold stabilises the crust, while Vick anchors safety lines along our trail with caramel. Her creations are quick and perfect, clean little discs of sizzling sugar, ringed with delicate short-crust.
I end up next to Fold as the crew ready the digger for another switchback turn. Vick is further back, busy with some detail work.
"What do you make of the new girl?" I ask quietly.
Fold shrugs, still muttering.
"The crunch of crust. Not much yet. A prodigy, I heard. Rising star. The crunch. Some little science group. A few months back. Of crust. Out of their league, I think. The Bake clearly favours her. The crunch-"
"Mm. She's good. Surprised I haven't heard of her before now, really." Trained foodies aren't so rare we don't need to keep tabs on the competition.
"She's new. But I take great interest. The crunch. In experiences like hers. Of crust. And yours—very similar, you know. The crunch. She was found. A wanderer in the dark."
"Shit."
The memories heave up, but the drugs keep them at arms' length. More than a decade old now, early in what would become my career. The Bake was a relatively new discovery, its mechanisms still barely understood, and I was there with a group of explorers, trying out my newfound status. They didn't even call us foodies then, I was an Extradimensional Operations Special something-something, and when I stepped through a pastry shell and fell thirty metres into darkness, that was what they put on the death certificate. But the Bake is soft, and it's not like I was going to starve.
"I was thinking," Fold says. "I understand your reluctance. Crust. To talk about your. Crunch. Your ordeal. But perhaps, perhaps you could encourage her to talk to me-" He suddenly jerks in surprise. "Clipper!"
I smell almonds, marzipan, sickly sweetness. The tunnel around me is a chessboard, a grid of pink and yellow squares emerging from undifferentiated bread. Marzipan is forming underfoot, apricot jam oozing up.
I have never trained on Battenberg cake. I've never even made one. Too sweet. But when I was six I stole one, didn't like it, and hid it under my pillow for a week, forcing down daily bites out of a vague notion that this was the ethical way to dispose of it. The cake coming out of the wall has flecks of hair and fluff. I know exactly how it tastes, the strange cardboard chew of stale marzipan.
Far down the tunnel, Vick is staring at me, face hidden by her helmet lights.. Her sense of smell must be incredible.
"Crust!" snaps Fold. I startle out of my reverie and focus. Between us the Bake reforms in a moment. A couple of techs are looking. One of the mercenaries strolls over.
"Everything all right here?" she asks. Her suit whirs softly as she inspects us. The heavies wear powered frames over the environment gear. Even with her rifle slung amicably on her back, she could literally pull my head off. She might, if it came to it. A foodie in a meltdown endangers the whole team.
"Yes, yes, of course. Testing the resonant depth, overlap times—" Fold brushes her away with a mouthful of nonsense. She nods and leaves us to it. Artists get the benefit of the doubt.
Fold leans close as the digger gets rolling again.
"Not like you."
"It's not," I agree.
"Is there going to be a problem?"
"No." But there is. I have no idea what's happening. I am sharp, I am focused, I am specifically and carefully drugged. I am sure, absolutely certain, that no part of my subconscious was dwelling on stale cake, nor on that apple pie; made for my first crush, shared with her boyfriend. And yet.
I'm waiting for it to happen again as we press on. I double-check every crumb I lay down, roll the imaginary flavour around my mouth. I lean on my aids more than usual, calibrating for every little trick and amuse-bouche. I'm sure Fold notices. I bridge gaps with mooncakes, raise baguette buttresses. No problem. There continues to be no problem right up until the monster.
Even if our own universe- the one with the Earth we'd recognise—was the only player in pan-dimensional exploration, things would still get crowded in the Bake. It's a lucrative dimension, whether you're strip-mining bread or salvaging Baker tech, and while the Bake itself may be infinite, the entrances that we've found come out pretty close together. Even on an expedition like ours, so far off the beaten track, you can't be sure who's been out here before you. And we are not the only universe here.
A tech shouts something. Jaws come through the tunnel ceiling, a short way back from the digger. Black plates slide and click around a mess of scrabbling hooks, scything blades longer than my arm. Blank eyes gleam wetly.
One of the techs is snatched up, scream muffled in his suit. I fall to the ground and scramble under the digger as the heavies let loose. The gunfire is apocalyptic in the tunnel, even through my helmet, rattling thunder through my teeth. Fluids spatter. Fold is standing, advancing even, arms up like a wizard casting a spell. He's shouting something.
We're not sure which of the many Earths to visit the Bake is the monster-maker. We call them weevils. Probably they are not meant to eat people. Best guesses and traces of harness have them as engineered burrowers, faster than our mechanical digger—but no-one has ever found one with its team. Perhaps these feral remnants are all that's left, abandoned by a world with more on its plate than infinite bread.
The weevil bellows. The digger rocks. I curl into a tighter ball and shut my eyes.
The darkness is waiting for me.
***
After the fall, as Fold puts it, I wandered. I walked in dark places. My suit battery died in two days and I assumed I'd follow shortly. I was always on the brink of choking. Any exertion brought on spiking headaches, neon pain against the black. I walked blindly in the tunnels of ancient explorations, following the soft walls with my fingers.
In the absence of light, it is hard to know when to eat. I discovered early on that the Bake could provide fresh fruit—sliced, as a pastry topping—so that was my water. My nutrition came with my moods, fistfuls of dough clawed from the walls, or great blind feasts, every baked good I could think of, until something switched over and I was weeping and gasping for air over a heap of latticed pies. Sometimes I heard weevils. Once, I think I stumbled into Baker ruins, crumpled and swallowed by expanding bread. I spent a long time there, feeling my way through caverns that might equally have been ovens or blast chillers. I remember a confusion of scale beyond the demands of industry–stacked trays the size of swimming pools, a countertop the height of my chest and three thousand paces long. I have never been able to locate these again, though they should have been unmissable. Probably they shifted, tumbling in the infinite like the lucky coin in a pudding. Of course, I spent a lot of time going crazy.
I devised and judged grand challenges for myself. At first I set rewards for milestones; a perfect semolina cake, for which I would allow my favourite childhood brownie. Later, these became punishments; sleep when you get it right. Drink when you get it right. I tried so hard to produce a flambé for light—cherries jubilee, or pudding—but it never worked no matter what I threatened. I think it failed because I couldn't imagine the taste of fire.
I learned a lot. Eventually, it no longer felt like learning—it felt like teaching, like a conversation. Here is what I want. Here is what it means to me. I poured out my life in the only language the Bake might understand. The pie for my crush, the stolen cake, my nana's cornbread. In my least lucid moments I walked with and within a vacantly smiling god, a vast benevolence made cruel only by the scale and indifference of its kindness. It would want me to be happy, if only it knew what I was.
Or something like that. I want to be clear; I was half-dead, completely unhinged. Fold comes out with this stuff sober.
Once I heard another expedition, machine and human noises, high above but too muffled to pin a direction on. I dug with my hands to reach them, but they moved on too fast. I remember wishing, desperately, that one of them would fall like I had. This was the point I had reached- I had forgotten to hope to escape. I just wanted someone to share it with. Just one person, I pleaded, that would be enough. Someone to relate to, to swap notes with. We would talk to the Bake together. Then maybe I could get that flambé.
Seven months after people stopped looking, a survey team for one of the big harvesters found me on the outskirts of their newest claim. I remember the pain of light, and being confused. Where were we going? I had nearly perfected meringues…
***
The gunfire has stopped. The digger is still. Little by little, I unfold and extricate myself.
Smoke and alien gore wind through the stench of bread. The mercenaries stand unharmed, barking commands and pointing. There seem to be as many of us as we started with, though medics are earning their keep, dressing wounds, strapping an arm. Even the tech who was grabbed is still here somehow. He groans as they cut his suit open, dousing his wounds with trauma foam.
The weevil's corpse sprawls half into the tunnel, a glossy tangle of limbs and hooks. Yellow ichor has spattered in all directions, bringing a sweet popcorn musk. Fist-sized holes riddle its carapace. What remains of its head is locked in a pillar of pecan brittle, while its largest limbs are fused into caramel, trapped between soda-bread stalactites. Mounds of giant bao buns are slowly subsiding—sandbags, to protect the digger.
The heavy from earlier says something approving to Vick, claps Fold on the shoulder. She turns away when she sees me, I assume in contempt.
"Well. You two were busy." I say. Vick says nothing, just looks at me, still picking at her face.
"Horrible creatures," says Fold primly. "Were you injured?"
"No. Just uh, got thrown a bit. Good work on the brittle there, who was that?"
Fold coughs pointedly. I look down. A dense yellow crumb is spreading out around our feet, pockets of cheese leaking to the surface. I know what it is before I even catch the smell; my nana's cornbread. I barely remember her face, but this I know.
I don't have much left in me to react with. A wave, a thought, it's gone. Fold jerks forward.
"Get it together," he hisses. "Right now."
"It's not me!" I snap.
"Bullshit. Has your focus run out? I have refills—"
Vick puts her gloved hand on my arm. It's so strange that we both stop to stare at her. Her mouth is getting worse.
"Listen," she says. It's not clear who she's speaking to. Fold tilts his helmet at me.
"It's not me," I say. "They're from me, they're my memories, but I'm not bringing them up."
"So how—" Fold begins, and then I'm telling them about the dark. Not everything, but enough.
No one interrupts. Behind us, the expedition pulls itself together. A stretcher is assembled, munitions are counted, equipment is dusted off and redistributed. There's a long way yet.
Fold looks hungry when I stop.
"A lasting connection," he says. "Response beyond immediate reaction."
"I guess so," I say.
"But that was years ago. So something has changed." He puts a hand on the tunnel wall. "Perhaps it's finally reaching out, the only way it can. Perhaps it's trying-"
"The Bake doesn't want anything, Fold."
"You know that's not true," he says. "It wants to nourish us, to give us what we want. Food has always been the way to bring people together. What peace there could be, if only—"
"I was alone!" I yell. "Choking and alone in the dark! All I wanted—the Bake doesn't care what we want! It doesn't even know!" People turn. I don't care. "You think it's a god? Go pray to it yourself. You know the way."
The weevil's entrance hole reflects in Fold's visor. Beyond the jagged body is darkness, mile after mile of crisscrossed burrow, down into eternity. Fold smiles.
"Perhaps I will."
He turns and walks back to the expedition, raising a fresh crust as he goes. I go to follow him, but Vick catches my arm again.
"It cares, you know," she says. "The Bake does care. But some prayers take longer to answer." She picks at her flaking cheek again, then, in one deft movement, pinches the pale flesh together, kneading it smooth with the heel of her hand. In a moment, her skin is flawless. She smiles. Her lips are blushed marzipan.
As she too walks away, rich currant pudding pools in her bootprints, quickly disappearing. Before it does, it flickers with purple flame.
---
© 2022 by Phil Dyer
3600 words
Author's Note: A loaf of bread with a sufficiently 'open crumb' is full of bubbles which often link together, forming tunnels and alien cave systems. I enjoy sci-fi expeditions into dark places, but these doomed ventures often subsist on vague but unpleasant 'rations', if food is mentioned at all. That would probably keep me off the team. I was moved to make a case where being way too into what you eat is a valuable, practical asset.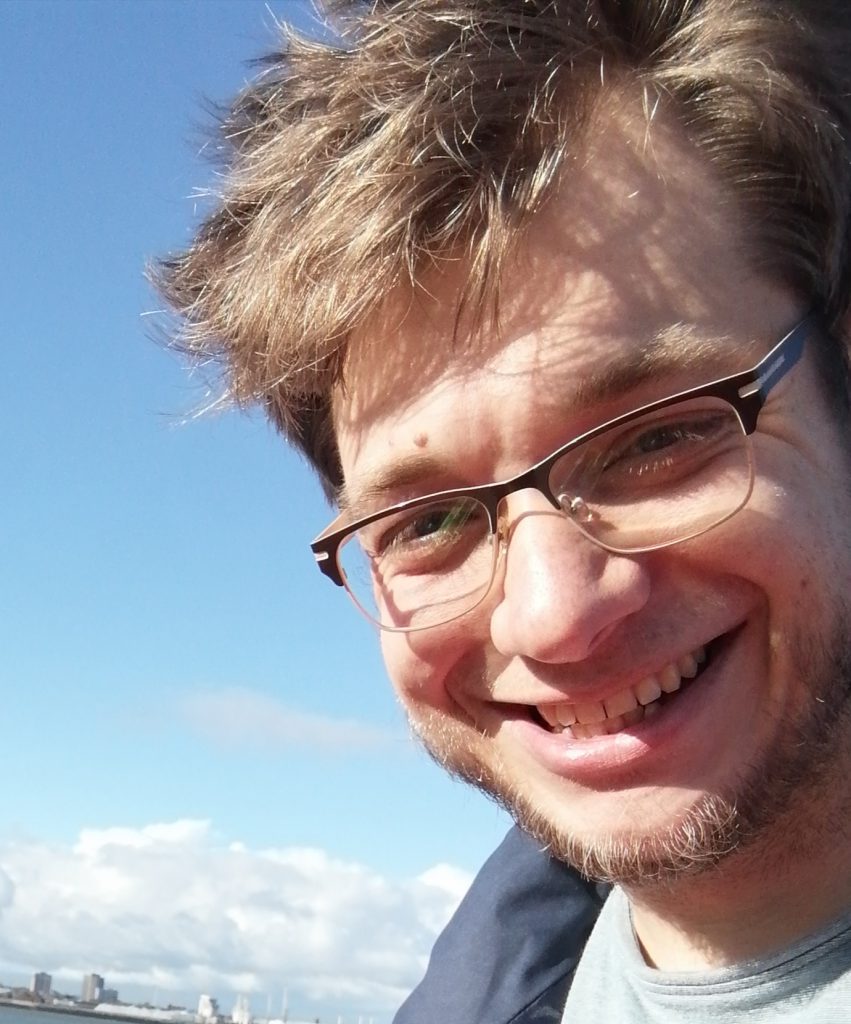 Phil Dyer does science and writes spec fic in Liverpool, where he appears to have settled for now. He has firm opinions about food, games and seagulls. Loves the outdoors, but wouldn't live there. His stories have appeared in BFS Horizons, Aurealis, and once before in Diabolical Plots. He can be found on twitter as @ez_ozel . 
---
If you enjoyed the story you might also want to visit our Support Page, or read the other story offerings. Phil Dyer's work has previously appeared on Diabolical Plots with "Everyone You Know Is a Raven" in January 2021.