So you want to determine whether dogs still exist.
First, our association of dogs with obedience. Is obedience dog-like? Or is it to do with horses now, or children, or hamsters. "Hamster-like obedience." Dogs have retreated into the bodies of hamsters, maybe. They have a real knack for learning, we're told, and for evolving themselves. There's no reason they couldn't take this extra step. Or maybe they don't exist, dogs have never existed.
Let's not get ahead of ourselves.
Consider our association with the meow. Do we think of the phrase "meow" and picture a dog? Or is it some animal now, possibly a clam, or a variety of bird, or a noisy sort of vegetable. "Meowing like a celery stalk." If the phrase "meowing like a dog" has vanished from common vocabulary and been replaced with something else, then have dogs been replaced as well? It is hard to be certain. There are other symptoms; diagnose at least six before taking confidence in your conclusion.
A third test is the nature of ears. When you are leaping around the hill in excitement and your ear flips inside out, do you think, "how dog-like of me to have an ear that has flipped inside out from excitement!" Or do you think, "strange, I do not have a single species to compare this phenomenon to," and thus conclude that an ear flipped inside out is a human institution? It is human ears that flip inside out, you suppose. Not dog ears, because dogs do not exist anymore in our current reality. They've never manned the buses, or ran the companies, or built the airships, or colonized the planet's space stations. The dogs have packed their suitcases and taken their technology with them.
The fourth test is a question of hieroglyphics. Do dog-headed hieroglyphics exist? Then perhaps dogs still exist in your universe. Is the sphinx still a woman with the body of a dog? Has she been displaced? Has her voice and her infamous dogsong been muted? Have her riddles ceased to afflict the commuters on the public transport, or do they still read the franchise-distributed newspapers and work to ignore the dog-riddles coded into the news stories? (Answers are available in the back, in upside-down print.)
The fifth is the cold wet nose. Perhaps there is a memory of hiding in the tornado shelter, and your mother presses her cold wet nose to your shoulder to reassure you. Certainly no other animal has that cold wet nose, most human of noses, which fluff will keep sticking to and keep needing to be licked clean. Or: in your memory, her nose is dry. It is not a tornado shelter, and she presses her cheek, not her nose. The cold wet nose is a dog-nose, because dogs exist. The tornado shelter is not a tornado shelter, because it is not needed for tornados. The distant airships wreathe the buildings on the skyline in a flickering green.
The sixth is burial. How do you bury your dead? A bone dug up: is this a dog-like behavior? The mounds of earth could be from the laying of a sewage pipe, or maybe an archeological excavation. Soil has not been restricted to dog territory. When the dead happen, they can be slid into the earth, secure that their bodies will not be co-opted, because dogs do not exist. There is no reason to quarantine the dead and burn them. Their ashes are not encased in salt and sealed into the trunks of baobab trees. Instead, if ashed, you can scatter your dead on the wind. There are no airships to intercept them. If desired, you can even put your uncle's ashes into the earth, along with building foundations, and pirate treasure, along with bodies. Burial remains a human institution, a very humanoid endeavor.
The seventh is opposable thumbs. Who has thumbs these days? Have you shaken hands with your pet while telling it, "Good boy, Rex, have a biscuit," and noted how it clasped your palm with all seven of its opposable thumbs? Have your own thumbs been feeling lively? Have they been whining softly at night, when they think you cannot hear them. Do they ache when you bring them near a flank steak, or whenever you think a disloyal thought. Or, perhaps thumbs are something for humans to enjoy alone. The opposable thumb: what a people-person thing, you think. You might say to yourself, I sure do enjoy holding these bottles and unscrewing these jam jars and thinking whatever thoughts I want! What a Homo sapiens thing it is, to have opposable thumbs!
The eighth is unexpected gifts. Did you open your mailbox this morning and wonder at the rose-patterned box you found inside? Possibly you brought it to your kitchen table, anticipating its contents. "Another thrall-cap!" you might say. "They keep sending me more, and I already have so many!" Or you told the postman, "My apologies, clearly this strange hat was delivered to the wrong address, since I don't know the sender or even what a thrall-cap is." There are no dogs to send you overnight post. There's no reason to be alarmed, perhaps, by the families wearing beeping hats who are marching single-file out of their homes toward the airships in the distance; they are simply pursuing some healthy form of exercise.
The ninth is the flensing of divinity. When the dogs, pouring from their airships, swarmed that titanic body and brought its flayed corpse tumbling from the clouds, did you say, my goodness, who are those four-legged creatures nipping at god's heels? Or was it no mystery, because dogs exist. As they spread the softening cadaver across the continent, did you think: what is that sound I hear when I mean to be sleeping? Or did you say, there goes that dogsong again, and close the curtains against the afterimage permanently burned into the evening sky, of a flensed corpse tumbling down.
The tenth is the hieronymic engine. They've been building it for ages, and now you can see its rays at night like a lighthouse. Your brother begins to pant in the heat. You watch him struggle with holding items, his thumbs not quite operational. Gagging on bread, on all fours. You may note a bristled stubble on his arms, which he's tried shaving into nonexistence. He fights the engine's influence; it is not his fault that some are involuntarily susceptible. His speech will choke him till he swallows it, till the tail uncurls from his spine and he throws himself out the screen door, bounding over the hill, straight to the species that has assigned him new loyalties.
Have dogs been banished? Have they been expunged? The anxiety, that you might take your morning coffee and look out the window and see those airships again. Then you will remember, the dogs were no story. There is a migraine-like aura which they bring with them and you recognize it unwillingly. Your grandfather used to tell you about it. He'd say: fighting for what's right can be hard but you must stick to it like a barnacle. He'd talked about this before. You were certain your generation had evaded these necessities but they've followed, universe across, and you begin to understand something your grandfather would not:
A barnacle glues itself to familiar rock from chemical instinct.
Pry it free and who knows what other life it can live. Why cling to familiar humanity? Do dogs exist? Could you yourself demonstrate the answer to that question?
You tell your children, it's not that you're selling out. You're just tired, and you can read the signs of what comes next. You remember your grandfather's stories. Soon things will not be very pretty, and to be human among dogs will mean pain and dying. It's an unappealing concept. You have the choice, before it happens, to change your body into the shape of those with power. Why not? Many have done it already, when given the option. Your neighbors howl now. You find yourself amenable to joining them. Let the human race shrink by one more. Your still-human neighbors may fight back, they may resist. They may turn soldier in some war to reclaim their world for humanity. You'll try not to be impatient with them for it. Certainly your approach to a shifting climate is the more convenient option. In which case: conceal this reference sheet, conceal this guide to diagnosis. Ensure it can be found later, by another person who may need it more than you did. Human survival is not individual. It relies on dependable transmittal of information across the species.
We've been here before. Your story is not the only story. What you're embracing now to maintain a serene existence is not the end of the striving human; not for someone else.
---
© 2023 by Avi Naftali
1474 words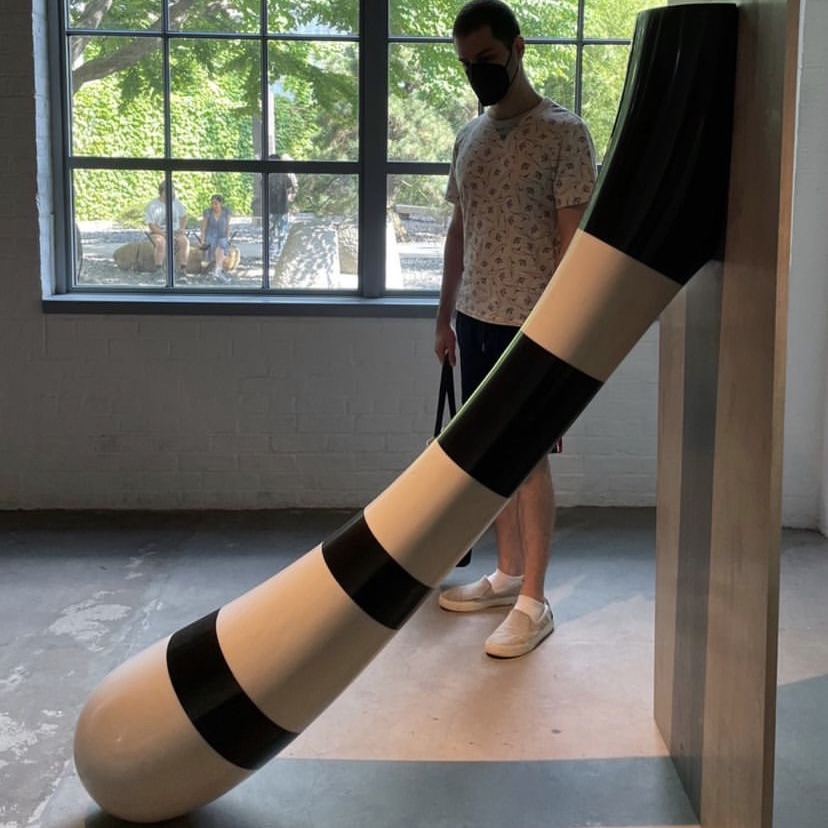 Avi Naftali's fiction has previously appeared online in Shimmer Magazine. Avi grew up in Los Angeles, and he currently works a nine-to-five in New York, where he shares an apartment with his husband and a very affectionate cat who is currently throwing a tantrum because Avi is late in feeding him his dinner.
---
If you enjoyed the story you might also want to visit our Support Page, or read the other story offerings.