written by David Steffen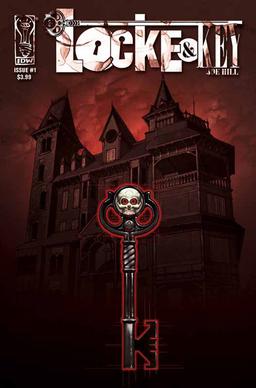 Locke and Key Volume 1: Welcome to Lovecraft is a collected group of comics written by Joe Hill and illustrated by Gabriel Rodriguez and published by IDW publishing. The individual issues that make up the collection were published between February-July 2008.
After the murder of their father by a couple of a teenagers, Bode, Tyler, and Kinsey Locke move with their mother to a family estate they've never seen in Lovecraft, Massachusetts known as Keyhouse. As if the trauma of their father's death and uprooting of their entire lives isn't enough, their lives soon get more complicated as they discover the house has secrets. Bode, the youngest of the kids, discovers a supernatural key that when used to unlock a particular door allows someone's spirit to move invisibly and independently of their body, and he starts hearing voices from the well. Meanwhile, Sam Lesser, the surviving teenager who killed the Locke kids' father, is receiving supernatural visits from a creature that can talk to him through the water in his sink in his cell.
This series is a horror fantasy masterpiece. The images are incredible and striking, the characters are well-defined and interesting even as they are flawed, and the magic system in the series is extremely fun and compelling to watch. I first started reading them mid-series when one of the volumes was nominated for the Hugo Award and although I didn't read them right away I never forgot them and when I heard they were making TV adaptations I wanted to finish reading them before I watched the TV version. Highly recommended!