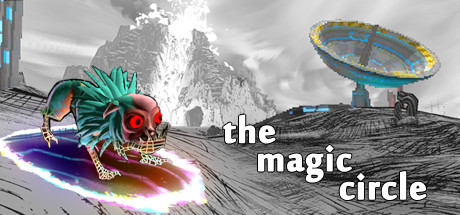 The Magic Circle is a first person puzzle/action game released by Question in July 2015.
Ishmael (Ish for short) Gilder is a celebrity in the gaming world, the designer of a wildly popular game twenty years ago, a text-based adventure.  The fans have been pining for the first person fantasy sequel that Ish has been developing… for the last twenty years. Ish dithers over every little choice, never making firm decisions on anything, and so the game continues to linger in "development hell".  Not even so much as a color scheme, so the game in development is still in monochrome.
You are the character in that game.  But Ish is so indecisive, he won't even allow the protagonist to have a weapon.  So, you can't possibly win an action fantasy game like that.  Can you?